Future of Ecommerce Web Dev: Payment Trends and Predictions for the Future
In the world of ecommerce, nothing moves faster than payments. We've gone from online credit card purchases to biometrics and crypto payments in less than 30 years.
Today, nine in ten consumers in America use some kind of digital payment method. In a few years, it's predicted that a big chunk of ecommerce sales won't just be digital. They'll happen in the metaverse.
So what does that mean for ecommerce merchants today?
Sellers need to stay abreast of all these new digital payment methods and implement payment technologies that their buyers prefer. Otherwise, they risk losing out on sales, damaging customer relationships, and losing business to more payment-technology-savvy competitors.
In this article, we share the 2023 payment trends that are shifting the landscape and emerging technologies that might push the boundaries even further over the next few years.
What's Driving Ecommerce Payment Trends?
Ever since consumers got a taste for the convenience, speed, and security that payment digitization offered in the mid-1990s, ecommerce payment methods have been evolving swiftly.
Today, merchants and payment providers are searching for ways to offer even more speed, convenience, security, and, ultimately, to facilitate the most frictionless payment experience possible.
The goal? To enable customers to tap a card, scan a code, or even blink their eyes to pay. And that's it. No need to pull cash out of a wallet, write out a check, or fill out a form — setting the standard for a truly effortless digital payment experience.
This boundary-pushing mindset isn't just happening in the US. It's global. Because the internet and mobile technology are so pervasive worldwide — in 2023, 91% of the world population owns a mobile phone — every region is impacted.
For instance, in China, it's normal for customers to pay for food with a QR code. In Turkey, you can send a text to buy a bus ticket. And in the US, tapping your phone on a POS system is just as normal as using your fingerprint to initiate a digital transaction.
Not only that, but people expect the flexibility to pay using their preferred method, whether that's with a mobile wallet, Bitcoin, or Buy Now Pay Later (BNPL). As a result, ecommerce merchants that are able to offer several options will have an edge over their competitors.
How Payment Gateways Make Digital Payments Work
Before diving into the new and emerging payment trends in ecommerce, it's worth looking at the technology that makes secure digital payments possible in the first place: payment gateways.
A payment gateway is the bridge between an ecommerce site and the payment processor. It's a programmable application that acts like a point-of-sale (POS) system in-store but works for digital transactions.
Gateways are essential for accepting digital payments and securely transmitting transaction data to payment processors. They also help with fraud prevention with tools like geolocation and velocity pattern examination.
Originally, payment gateways were created to let merchants accept credit card payments online. But now they also allow ecommerce businesses to accept newer payment methods, like digital wallets and cryptocurrency.
Advanced gateways like Shopify Plus' gateway, Shopify Payments, let ecommerce companies accept payments in multiple currencies, provide customers with secure checkouts using biometric technology, and integrate with the newest payment technologies, including BNPL solutions and crypto platforms.
Our team of ecommerce technology experts at Guidance helped one of our clients, Relax The Back, increase conversions by nearly 150% by migrating to Shopify Plus and expanding its payment options.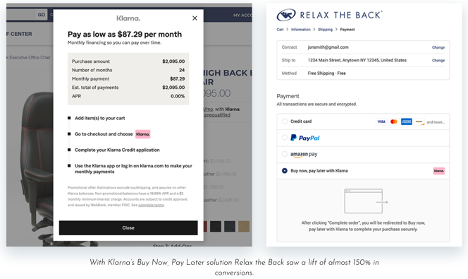 However, not all gateways enable multiple ecommerce payment options. And some lack the flexibility you'll need to accept tomorrow's preferred payment methods, so choose your gateway wisely. It's your ecommerce business's doorway to cutting-edge payment technology and a better payment user experience (UX).
5 New and Emerging Ecommerce Payment Trends
Here are five new and emerging ecommerce payment systems, tools, and trends that are shifting the way people transact online.
Buy Now Pay Later (BNPL)
People spend more with flexible options like Buy Now Pay Later. This payment method has been around for a few years — the first BNPL systems were introduced in the 2010s. Over that time, it's helped ecommerce merchants reach a new generation of buyers.
Younger millennials and Gen Z consumers like BNPL because it lets them buy products they want without using a credit card – about two-thirds of younger consumers don't own a traditional credit card, nor do they want to use one.
When you offer this method, it gives your customers more options, and you benefit from higher sales.
Ecommerce Subscriptions
The subscription ecommerce subscription market has been booming for years. It's grown 890% over the past decade. And with tools like Recharge from Shopify Plus, it continues to give merchants ways to improve the user experience with tools like subscription price discounts and curated free samples.
Subscriptions don't just streamline the checkout UX for customers. They can also boost sales.
Take our client Hawaii Volcanic Waters, as an example. The water brand introduced an automatic subscription option using Ordergroove.

As a result, the brand experienced a year-on-year (YOY) conversion rate increase of 40%!
Biometrics
Biometrics is one of the newest payment methods in ecommerce. With facial recognition, eye scans, and fingerprinting technology, mobile phones, tablets, and other devices can recognize a customer in a heartbeat.
This type of technology is ideal for situations where authentication is required to ensure a secure purchase, such as hotel bookings. Already, booking platforms like Sidehide let customers book and check into their hotels through an app using biometrics to verify their identities, saving them from waiting at a counter to show their identification.
Cryptocurrency
Crypto values dropped dramatically in late 2021 and through 2022, heralding what is known as the crypto winter. But, despite this chill in digital currencies, transactions and ownership are still on the rise, just more slowly than before.
For instance, usage of Visa's crypto-linked card rose from $1 billion in 2021 to $2.5 billion in 2022. Also, major crypto payment ecosystems like CoinsPad are still seeing significant growth.
The benefits of crypto for ecommerce are too big to ignore. Merchants gain from:
Lower transaction fees
Faster payment transfers
No risk of chargebacks
And consumers gain flexibility.
It's a win-win. But as values and ownership are currently down, this is one ecommerce payment trend that might be on the back burner over the next couple of years.
Metaverse Payments
The metaverse is a virtual realm where people can meet up, play games, learn, collaborate, and shop. Buying in a virtual universe through virtual reality (VR) or augmented reality (AR) is far from the norm in 2023, but more immersive buying experiences are already here.
For instance, ecommerce businesses are already using AR to let customers experience products before buying. When our development team helped cosmetics brand Benefit migrate to the ecommerce platform, Optimizely, we also helped them offer a tool letting users try on different looks before purchasing.

Customers can then buy the products in-store or online.
Then there's Meta Pay. With this payment system, consumers can buy in one click through Facebook, Messenger, and Instagram. Ecommerce Meta payments in the metaverse aren't exactly the norm right now. But they could be soon. Meta is planning on launching new VR headsets through 2024, as well as a second and third generation of its augmented reality glasses by 2025.
As with cryptocurrencies, consumer habits haven't skewed as quickly to virtual realm shopping as some predicted.
But we're still en route to a more high-tech ecommerce landscape. These new payment methods promise the key to an exceptional payment UX: more convenience, more speed, and more security. So, they're not going away, and getting ready for them is a great way to future-proof your ecommerce shopping experience.
Tips for Implementing New Digital Payment Methods
Keeping up with new ecommerce payment methods doesn't have to be difficult. With the right technology and an ecommerce platform with built-in flexibility, your online store can adapt, integrate, and expand at will, enabling you to build the perfect ecommerce payments system — and continually refine it as trends and consumer habits evolve.
Here's how to implement new payment methods in your ecommerce store:
Use an ecommerce platform that's highly customizable. Our B2C and B2B ecommerce experts can help you migrate to any of the major ecommerce platforms: Adobe Commerce, BigCommerce, Optimizely, or Shopify Plus.
Integrate with apps that let you access the payment channels your customers prefer. Our

website development experts

can help you decide which ecommerce platform will allow you to create the ultimate ecommerce experience, from Klarna to Affirm.
Follow emerging ecommerce payment trends and updates. From regulatory pressures and security concerns to new forms of digital identification, there's always change. Keep a close eye on the digital payments space and emerging trends in ecommerce by following

our blog

.


Get Ready for the Future of Ecommerce Payments
By 2030, the number of cashless transactions will double or triple. Super apps such as Meta Pay and WeChat Pay will streamline payments across entire ecosystems. Global payment standardization will impact everything from regulations to the checkout experience.
Is your company ready?
Guidance has the technical depth and ecommerce development experience to help your business create a phenomenal experience, from that first touchpoint to purchase. We can also help you navigate the complex world of digital payments, so your ecommerce store is always on the leading edge.
Learn more about our B2C and B2B ecommerce services today.