AN INTEGRATED PUNCHOUT SOLUTION
One of the most intricate portions of this project involved integrating the Shopspray solution for their Punchout invoicing system. This seamless integration enables customers to work independently in their accounts while leveraging HD Supply's website to create invoices and control purchasing. The results have been dramatic: a huge reduction in manual data entry, less reliance on fax machines and the increased automation has decreased human error.
Leveraging the features provided by the Shopspray solution for their Punchout invoicing system has meant a seamless integration from the procurement system and empowers the vendor to manage the purchasing experience on the HD Supply website. The Punchout system provides the ability to curate products and catalogs by account while controlling availability/pricing by account permissions and hierarchy.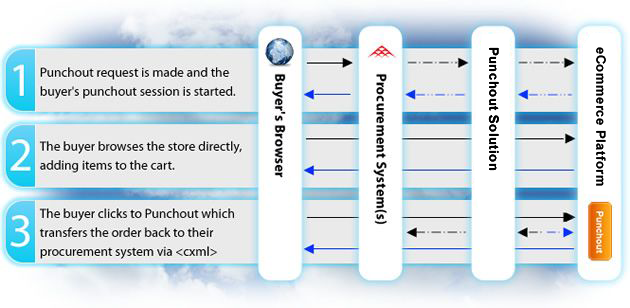 Completed shopping carts are returned real-time to the procurement system to create invoices. Multiple stages of approval by various levels of personnel ensures order accuracy. Once the order procurement system has a validated invoice, a purchase order is created and an HD Supply customer service representative is given the opportunity to reach out directly to the customer for add-ons and post-order management.
The creation of the online ecommerce solution has led to an enormous reduction in phone and fax managed orders and has reduced operational overhead dramatically. This frictionless B2B commerce solution has enabled customer service representatives to scale customer relationships and build the HD Supply brand. For the customer, this new frictionless ecommerce system has reduced the overall order time and increased the average order value.