In the ever-evolving world of online retail, content is still king, but the landscape is changing. In recent years, ecommerce video marketing has taken center stage, and it shouldn't be overlooked when you develop your own content strategy.
Guidance is a BigCommerce partner and has been helping online merchants and merchandisers reach their full ecommerce potential for over two decades. With a close eye on how the digital marketing industry has changed over the years, we know what works and what doesn't. How can video marketing help your ecommerce strategy? Below, we outline six compelling reasons to create a video marketing strategy.
Video Marketing Is the Future
People watch a remarkable amount of video content on their mobile devices. Mobile video has allowed companies to reach a larger and more targeted audience on a series of different platforms. And it no longer has to be published on a video platform like Youtube to gain audience attention. Social media has taken over. Whether it's Instagram, Facebook, Snapchat, or Tik Tok, social video has taken over digital marketing.
Hoonigan is a great example of what a huge impact video content can have on a business. In 2008, rally driver Ken Block uploaded a Youtube video of himself in a customized 2006 Subaru Impreza WRX STI performing a series of insane car stunts. It wasn't long before the clip went viral and 550 million views, several years, and many videos later Hoonigan was born.
Today, just over a decade later, video is still the center of the Hoonigan brand and a defining feature of its identity. Hoonigan is more than a racing team or gear company, it's a community of people who connect over the shared experience of "living their passions out loud." They are a community that wants to capture the life and energy seen in Block's first video.
Even more exciting is that ecommerce marketing videos can also be immensely effective at influencing consumers' purchase decisions.
More than 70% of smartphone users between the ages of 18 and 34 watch online video content at least once a day. Over 75% of adults have purchased a product or service after watching a marketing video. And among millennials, it's closer to 85%.
Videos are forecasted to account for upwards of 80% of all consumer traffic on the internet by 2022. Today, 85% of businesses use some form of video content to market their products or services and about 90% say it's a critical part of their strategy. Of merchandisers currently adopting a video marketing strategy, almost 100% say they'll continue using it, and 95% will either maintain or increase their current budget for videos.
With numbers like that, it's easy to see how video marketing is an essential part of any marketing strategy built today. Whether it's on Youtube, emerging social media platforms, or a product video on your website, online video marketing is the future - especially in ecommerce.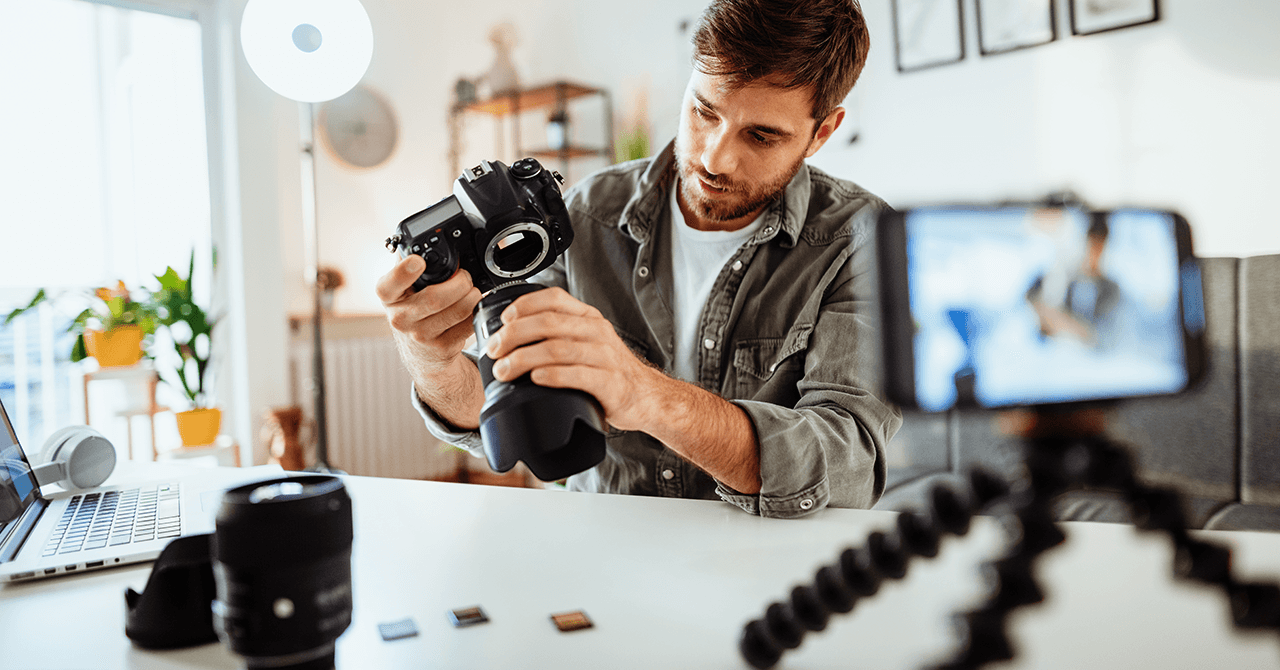 Video Marketing Grabs People's Attention
There's no shortage of text on the internet but when it comes down to it, your audience is more inclined to watch videos than they are to read. As people search the web and browse social media, video marketing tends to be more successful at grabbing their attention. About half of smartphone users find videos to be more engaging than other types of content. The general sentiment is that a video is an easier, more efficient way to consume content than reading text. Sponsored clips on social media are usually set to auto-play so watching them doesn't require any additional effort when scrolling through the feeds.
And with influencers doing paid ads on platforms like Facebook and Instagram Stories, video marketing has been seamlessly integrated into the daily browsing activities of the audience. These social media platforms already have the attention of your target audience and adding your video to these sites is an easy way to grab their attention and strengthen brand awareness.
Studies show that 65% of consumers are visual learners meaning they're better at retaining information when they see it through images or videos. If you want to expand your audience, you'll have to create attention-grabbing content that's easy for most people to digest.
Video Marketing Allows You to Demonstrate Your Product
An online video is an opportunity to set yourself apart from your competitors by showing off your product and giving the expert insight that can get lost in text. As mentioned, the majority of online shoppers are visual learners. What's more, people comprehend about 95% of a brand's message when they see it in a video whereas they only understand about 10% when reading text.
The Hoonigan case study is once again a great example of how online video is central to a successful ecommerce business. Instead of reading extensive articles explaining the intricacies of rally racing and their stunts, one just needs to watch the first 20 seconds of a Hoonigan video to have an accurate picture of the company and their audience's ethos.
Needless to say, a video marketing strategy is ideal for effectively showcasing what you have to offer. You can create sponsored social media clips of your product in use or film slightly longer tutorials and upload them to your YouTube channel or website.
Videos Are Prioritized for Search
Google owns YouTube and therefore prioritizes related videos from the video platform at the top of its search results. For instance, if you Google "How to waterproof your shoes," you'll notice that videos appear above traditional webpages. Creating a YouTube video of your product in action could help you rank as one of the top hits for the search query.
Aside from owning YouTube, it's in Google's best interest to display these videos at the top of search results. Internet users rely on Google's search engine to find the most useful, pertinent, and beneficial information for any given search term. And, in recent years, the online audience has been using video to get this kind of information.
In addition to uploading videos to YouTube, we recommend embedding them directly onto your website, especially your landing page. A good video strategy can reduce your bounce rate, as people are more likely to stay and watch a video than read through webpage copy.
However, just adding video content to your website won't be enough, you have to make sure it's easy to use and navigate. For example, although Hoonigan was still creating large amounts of video content, their website's capabilities were less than stellar. Fans weren't able to filter the videos or find the newest uploaded content. Furthermore, the content did not connect to Hoonigan's products/merchandise, therefore closing a clear channel from content to purchase.
With the large amounts of data that comes with video content, building with Shopify Plus was the best solution for Hoonigan. Using Shopify Plus gave Hoonigan the ability to optimize the website's UX and video data integration, making the content portion of their website user friendly and easy to navigate. From here, Guidance was able to create a series of short codes to give content authors the ability to easily connect articles, videos, and products. This allowed integration between these three channels, and let them work together for a better ecommerce outcome. Shopify Plus, along with short codes solution, now gives Hoonigan users a seamless digital experience, while also allowing the ecommerce products to punctuate the hundreds of hours of content.
Finally, it is also a good idea to feature social media icon links on your website. Assuming your company has a social media presence, making sure people can easily access your Facebook, Instagram, Twitter, and YouTube is essential for all kinds of content marketing - especially video marketing. This helps users know where they can keep tabs on you and find more information about your company in the future. Plus, it'll boost your SEO (search engine optimization) and can help you gain a larger audience/followers.
Ecommerce Videos Builds Brand Awareness
Video marketing has the potential to go viral which can put your company in the spotlight. Take Dollar Shave Club, for example. Thanks to its dry comedic theme, the brand's premier video ad gained widespread attention and now has over 27 million views.
Even if your ecommerce video doesn't go viral, they will still help to expand your audience and build trust with your target demographic. The more familiar people are with your brand, the more likely they'll be to engage with your business and purchase your products.
This is where social media is once again important for a good video marketing strategy. With so many users across the various social platforms, it is easier than ever for people to share the video content they enjoy. By using video marketing on social media, you can quickly connect with your target audience and then allow the user to spread brand awareness when they share the video with people in their network.
Hoonigan's brand story is a great example of how video can have a positive impact on awareness. Not only did video content pave the way for the company's inception but videos are still the heart of their brand identity. By replatforming to Shopify Plus, Hoonigan is able to take their video marketing strategy even further by optimizing users' interactions with the products, content and overall brand. Not only can users now search and share video content directly from the Hoonigan website but this expanded capability actually helps bring more people to their site and in turn raises brand awareness. Hoonigan's customized integrations within Shopify Plus not only allowed the company to spread their brand and showcase their content but it also helped to increase revenue.
Video Ecommerce Drives Conversions
If your website's landing page features a video, you can increase your conversion rate by as much as 80%. On social media, videos result in more product orders than other types of sponsored content. Not only that, but 70% of online merchandisers believe videos offer better conversions than any other marketing effort. Additionally, nearly 90% report a positive ROI for their ecommerce video spend.
Hoonigan is no exception to these kinds of numbers. By re-platforming on Shopify plus, Hoonigan was able to make their content more accessible to users, while also seamlessly merging ecommerce into the video and digital brand experience. Once the new site went live, Hoonigan saw a 52% increase in revenue and 26% increase in conversion rate compared to the previous holiday season. Hoonigan had been creating the right content for their target audience but the website didn't allow their users to interact with it in an optimized way. By re-developing the website functionality to encompass all parts of a great video ecommerce strategy, it fostered quick and notable growth for the company.
These numbers are significant for any digital marketing strategy, and prove that adopting video marketing is beneficial for both the brand and its audience.
Start Video Marketing Now
Selling online means consumers can't see and feel your products in person. Written descriptions, clear product specs and images are undoubtedly important but videos give your customers the most realistic, comprehensive view or your products and services.
Also, creating videos isn't as complicated or expensive as you may think. There are many different kinds of video content that your company can create, some more involved than others. You can make videos to educate your audience - provide them with expert advice or unique ideas on how your products can be used. You can also use videos for storytelling, whether it's the history of your company or customer testimonials about how your product has changed their lives.
And finally, you can ride the rising tide of video on social media. Whether it's posting on your company's Facebook page or Youtube channel, or using partnerships with an influencer to post about your product on their Instagram stories - these new technologies have the marketing numbers to prove they are essential to any successful digital marketing strategy.
The marketing industry is always changing but you can expect ecommerce marketing videos to stick around for a while. If you want to stand out from your competitors, build brand awareness, and improve your marketing statistics, video marketing should be part of your ecommerce strategy.