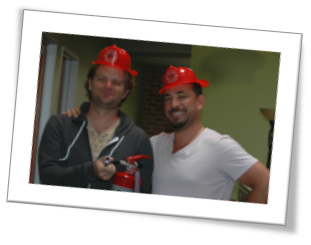 Last week, a small fire burst out in our parking lot at around 11:30pm. Luckily (for us!), our neighbors at MagNet Solution were still at work and rushed outside to come to our rescue.
Capm Petersen and Gabe Rene (shown on the picutre) from MagNet grabbed their fire extinguishers and put out the fire in no time. They are now known as heroes at Guidance.
Thank you Capm & Gabe!
---
Catherine L.
Guidance