If you're doing high-volume sales, a standard ecommerce platform for small to mid-sized businesses isn't enough. You won't have the control needed to ensure your site can deliver a competitive user experience and scale with ease.
But with Shopify Plus, you can shoot for the stars.
Shopify Plus is an enterprise-level platform purpose-built for growing brands. It's loaded with features like omnichannel capabilities and customized checkouts that can help companies boost sales and performance and scale quickly.
This article will explore the Shopify Plus benefits and features that make this ecommerce platform stand out, so you can decide if it's right platform to drive business growth online.
What Is Shopify Plus?
Shopify Plus is one of the leading enterprise-level ecommerce solutions. It's Shopify's most advanced solution for ecommerce brands with high levels of annual revenue.
Over 7,400 large companies use it, including well-known brands like Upwork, Sephora, and Relax the Back. Shopify Plus accounts for 10 percent of the global ecommerce market, with merchants selling in 175 countries and 21 languages.
Shopify Plus vs. Shopify Advanced
Shopify has several tiers of ecommerce solutions, including Basic, Advanced, and Plus. Where Basic Shopify works well for small businesses, growing companies will benefit from Shopify Advanced or Shopify Plus.
Shopify Plus is usually the best option for enterprise-sized businesses because it allows for easy, fast scaling. It's also a good value for companies that have complex and ever-growing needs.
With Shopify Plus, you can operate several stores under one license. With Shopify Advanced, you have to buy a license for each store.
Shopify Plus gives you 200TB of storage space, and there's no additional transaction fees. Shopify Advanced has a less expensive license, but transaction fees aren't included.
Both Shopify Plus and Shopify Advanced users have access to Shopify's robust Help Center and 24/7 email support. But with Shopify Plus, users also have a dedicated representative to help during onboarding and beyond.
Shopify Plus also offers a richer feature set, enabling users to benefit from more advanced technology and customizations.
How Can Shopify Help My Business?
All of these Shopify Plus benefits combined can lead to rapid growth.
Take Malaysian fashion and apparel brand MS. READ, for example. This successful retail brand started to take a hit during the pandemic.
To regain its ground and grow, it turned to Shopify Plus to ignite its ecommerce sales.
After implementing Shopify Plus and taking advantage of Shopify Plus apps and integrations, MS. READ saw a 20 percent increase in online revenue, a 300 percent increase in efficiency, and was able to set up its first cross-border store in less than a day.

Because it offers a robust cloud-based infrastructure, an open API, and a rich suite of features, businesses have a lot to gain from this platform, too, whether it's planning on going global or making a shopping experience more competitive.
Here are some of the main benefits of Shopify Plus:
1. Speed and Scalability for High-Volume Sales
Need a platform that can cope with massive traffic spikes and Black Friday transaction volume levels? Shopify has 180 points of presence (PoP) in 80 countries, so users can count on optimal speed and performance no matter where customers are doing their online shopping from.
Shopify Plus runs on a cluster of dedicated servers to ensure 99.99% uptime. It can handle thousands of transactions a minute without impacting a store's performance and offers a load time that's nearly six seconds faster than the industry average.
2. Limitless Flexibility
For multimillion-dollar businesses, flexibility isn't something that can be compromised. Large and enterprise-level ecommerce companies need to integrate new technologies rapidly and adapt their tech stack without slowing down operations.
Shopify Plus has an open API, so businesses can sync with all their backend tools, including order management systems (OMS), inventory management systems (IMS), third-party logistics (3PL), and enterprise resources planning (ERP).
If you require a custom solution, the technology specialists at Guidance can help. Our team has completed over 1000 site builds and integrations and has nearly 30 years of experience innovating world-class ecommerce solutions for large companies.
3. Cutting-Edge UX
It's no secret that exceptional experiences drive revenue growth. McKinsey has found that investing in customer experience (CX) can lead to a 15 to 20 percent increase in sales conversion rates and a 10 to 20 percent boost in customer satisfaction.
For online shopping, the on-site user experience (UX) is ground zero for a stellar CX.
Shopify Plus enables ecommerce brands to offer a state-of-the-art UX with advanced features. You can deliver a friction-free user design and leading-edge features, including the following:
3D models on product pages
Augmented reality
True-to-life videos
4. Checkout Extensibility
Where AR, 3D models, and other visual elements help to engage customers and elevate the shopping experience, checkout extensibility is one of the best Shopify Plus features for boosting conversions — merchants experience an average 1 percent conversion rate increase with this too.
Checkout extensibility lets merchants customize checkouts so the buying experience is fast and friction-free.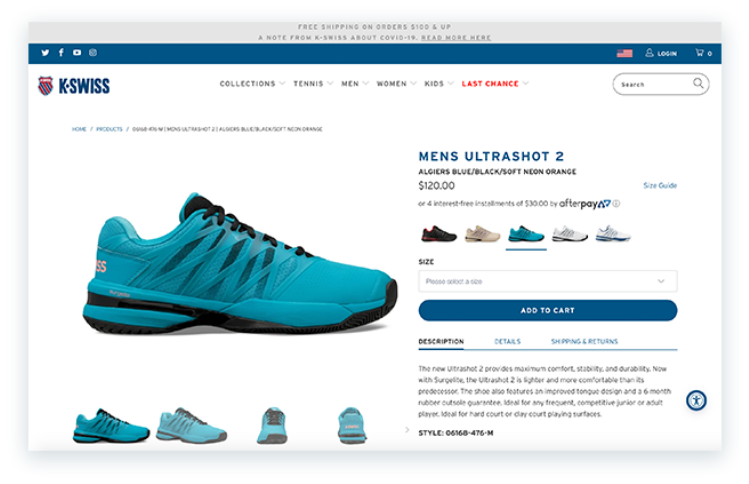 This feature lets you add checkout user extensions, such as:
Custom content
Loyalty programs
Product offers
Custom fields
The best part is that all of these extensions adapt to the branded appearance of the store's checkout, ensuring the shopper has a unified buying experience.
5. Shopify Audiences
Shopify Audiences is a powerful marketing tool available to Shopify Plus users only. It draws upon Shopify's unique commerce data and insights to generate custom audience lists.
This tool makes it easier to get ads in front of the right people in the right places. It automatically tailors audience lists to your products and buyer intent signals, enabling your business to drive better ad performance.
Here's what else you can expect with this Shopify Plus feature:
Shopify Audiences uses machine learning to find relevant ads for your buyers, boosting the effectiveness of your digital ad campaigns.
Multi-channel integrations let you better target buyers on Meta, Google, YouTube, and other popular channels, so you can optimize your ads across your marketing funnel.
You'll also benefit from actional insights and reporting — Shopify Audiences provides data on conversion attribution so you can see where your audiences are coming from.
Get Started with Shopify Plus with Help from Guidance
Ultimately, Shopify Plus is an excellent fit for global brands and companies looking to scale fast. And while this advanced ecommerce solution can be the key to unlocking growth, you'll want to get set up quickly so you can start scaling right away.
At Guidance, we build enterprise-ready solutions so brands can offer a leading-edge shopping experience to customers worldwide. As a trusted Shopify Plus Partner, count on our award-winning team of technology experts to help you get results.