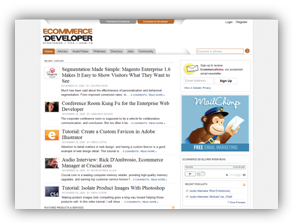 Guidance recently tested the newly-released Magento Enterprise 1.6 upgrade, which features an advanced content management system (CMS) and a brand new Rich Merchandising Suite.
Testing results were featured in an article that Guidance CTO, Jon Provisor, wrote for eCommerce Developer, a new online magazine from the editors of Practical eCommerce, targeting Web developers interested in becoming more proficient at building eCommerce sites and growing their development business.
The article focuses on the Rich Merchandising Suite, which allows merchants to deliver targeted content to client segments, as pre-determined by the site admin. To learn more, read the full article.