Breaking news. Informative speakers. Networking with clients and prospects. The 2016 Magento Imagine Commerce conference was a week filled with that and so much more.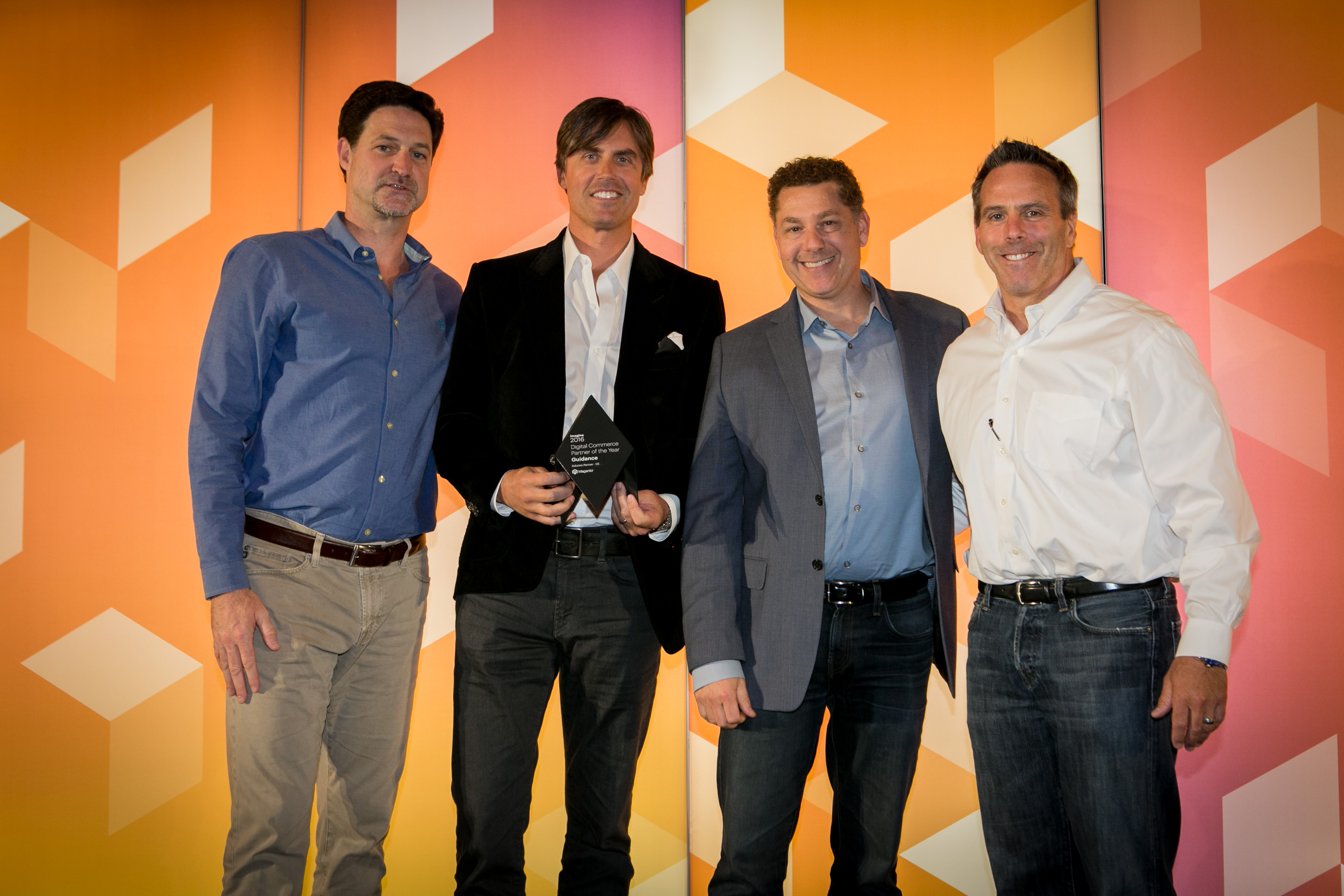 Guidance Named the
2016 Magento Digital Commerce
Partner of the Year!
This was the first Imagine conference Magento held as an independent company. (eBay finalized the sale of Magento Enterprise in November of last year.) So they took this opportunity to celebrate the various groups that comprise the Magento community.
With the "We Are Magento" theme, Magento celebrated "the diversity, creativity, and shared passion of [the] thriving global community of engineers, entrepreneurs, investors, and inventors." Keynotes and breakout sessions reflected the community by addressing their needs and wants:
DEEP DIVES: From day one through to day three, Magento featured "Commerce Conversations", "Workshop"s, "Deep Dive"s, "Merchant to Merchant" sessions, "Merchant to System Integrator" sessions, "Breakout" sessions, and "Bar camps" to enrich the community with best practices, knowledge sharing, and to help create and sustain competitive advantages against other commerce platforms. Guidance participated in 3 sessions - one panel discussion on Magento 2, and two breakout sessions offering deeper insights into our Magento 2 launch for SOL, www.SOLgirl.com, the first Magento 2 site to launch in North America. (Stay tuned for archived recordings of these sessions.
INNOVATION: Big news in product development was the announcement of the general availability of Magento Enterprise Cloud Edition. A Platform-as-a-Service (PaaS) environment for the Magento 2.0 digital commerce platform, Magento Enterprise Cloud Edition runs on Amazon Web Services (AWS) Cloud and enables merchants and SIs "to adopt continuous delivery practices by providing best-in-class DevOps, release management and cloud management tools that make deploying, testing, promoting and operating multiple environments rapid, easy and manageable". Magento Enteprise Cloud Edition is said to begin service on May 1, 2016. Final pricing has not yet been published.
PREMIER PARTNERS: Magento welcomed multiple partners to its new "Premier Partner" level of its Technology Partner Program, previously known as the "Platinum Partner" level. New members are:
The Premier level partnership offers deep core integration and addresses strategic merchant needs. PayPal and dotmailer (an email marketing automation platform of dotDigital Group PLC), were initial Premier-level partners. The Premier Partner designation is an invitation-only level of the Magento Technology Partner Program.
MAGENTO 2.1: Magento 2.1 is coming in June 2016 and it's jammed with additional functionality:
Staging and Preview - Staging will be faster, easier and less expensive on Magento Enterprise 2.1! Now, merchants will be able to to create, schedule and preview CMS pages, categories and products updates and campaigns all without the need for IT! And, all scheduled updates will all now be seen on one dashboard.
Elasticsearch – Elasticsearch, an open source tool, will replace SOLR. With Elasticsearch, site search will be faster and provide more relevant results.
Check Out – A 50% faster guest check out and 36% faster registered user check out is on the horizon with PayPal and Braintree enhancement. Magento also announced that these improvements will enable a seamless payment experience.
MAGENTO 2.2: Previewing what's to come, Magento highlighted the release a B2B module in 2.2, that will include account management with permissions, custom catalogues/pricing, a quoting engine and repeat ordering.
ACCOLADES: But the biggest news of all, is that Guidance was named the 2016 Digital Commerce Partner of the Year! For five years running, Magento has honored Guidance for its quality Magento Enterprise deployments, merchant satisfaction, and innovation. Thank you, Magento, we are so proud and honored. And, congratulations to the Magento practice team here at Guidance!
If you missed the event, check us out on Twitter (@guidance) to read highlights of the event. You can also search #magentoimagine to see all event-related tweets. Pictures of the event have been posted on our Facebook page.
We hope to see you at the next Imagine Conference!