Another successful show for the Guidance team! The 2011 Internet Retailer Conference & Exhibition (IRCE) wrapped up today and Guidance rocked the exhibit floor with an amazing display of clients and services at booth 1016.
Here's a short recap of what went down at the show:
The IRCE exhibit floor opens up at 4:00pm with the "Exhibit Hall Reception"
Jon, Ale & Ed greet visitors, clients and partners at the Guidance booth, #1016
Long-time client, Foot Locker, stops by the Guidance booth to say hi. The client raves about all the fun they had surfing and dining with the Guidance team the day before. (We were glad to hear that!)
The Exhibit Hall Reception ends at 7:30pm. Time to call it a night!
The Guidance team goes to The Oceanaire restaurant in the Gaslamp Quarter -- #1 in our "Things To Do While At IRCE in San Diego" list
Thet, Ale & Ed kick off day 2 at booth 1016, with our first visitor dropping by at 9:00am
Dozens enter our raffle for a chance to win a CBTL single-serve brewing system, a pair of Ray-Ban sunglasses, or a case of ONEHOPE Wine
Jon & Mike meet with client MARS
The Coffee Bean & Tea Leaf, another Guidance client, stops by our booth
Game 7 of the Stanley Cup is streamed live on the giant screens at the Guidance booth. Congratulations, Bruins!
The Exhibit Hall closes at 7:00pm
The Guidance team goes to the IRCE Block Party along with 4,000 other attendees
Debbie joins the Guidance/IRCE team!
As the last day of the show, the booth receives hundreds of visits, keeping Mike, Thet, Ale, Ed & Debbie busy from 9am to 4:30pm
Ale (briefly) attends the Women eCommerce Execs luncheon, meets ladies from FitForCommerce, Vertical Rail, CDcCommerce, and ShopitLA, returns to the booth to greet more visitors
Visitors from partner companies such as Magento, Mediachase/EPiServer, ATG/Oracle, MyBuys, Endeca, Savvis and others, stop by the Guidance booth
Raffle winners are selected! (We'll be getting in contact with them soon to arrange delivery of their prizes)
And that's a wrap for the Guidance booth at IRCE!
If you missed us at the show, check out this short video of the Guidance booth at IRCE.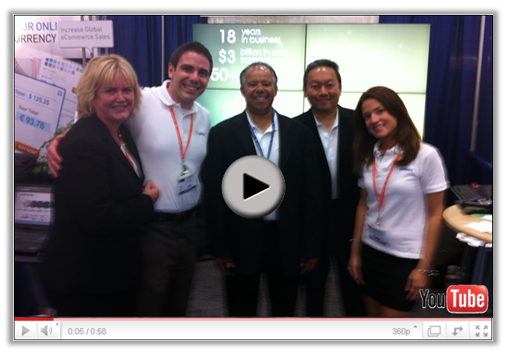 See you in Chicago next year!