Undoubtedly, you've heard the term "swag bag." In the 18th century, it referred to a container used by a thief for stolen goods. In current professional settings, the swag bag evokes images of endless tchotchkes springing forth from the booths at trade shows and conferences. But what's probably the most well-understood incarnation of the swag bag is the kind of gift given to celebrities at award shows and other high-profile events.
These bags would be filled with expensive and exclusive items – and if the paparazzi happened to photograph one of those stars holding or wearing your product? Well, from an earned media perspective, that was worth its weight in gold.
That was also the start of modern influencer marketing.
The field has evolved tremendously since then, but with the advent of social media and the power of peer-to-peer recommendations, is it still an effective tactic for your business? In this article, you'll learn how influencer marketing works, how the opportunities have changed over the years, and what makes campaigns successful.
What Is Influencer Marketing?
The concept of influencer marketing is easiest to understand when you bring a celebrity into the equation. Who has more influence over the buying decision of your customer – a respected marketing executive at a successful company, or a celebrity who commands the attention or adoration of thousands, perhaps millions, of people?
Influencer marketing is the act of having your product promoted by an "influencer." But the answer to the question "Who is an influencer?" has changed greatly over the years. It's no longer limited to movie stars, TV stars, or rock stars. Even Broadway has gotten into the act, as Hamilton creator Lin-Manuel Miranda appears in ad campaigns for American Express.
But influencers can be found in every industry, and on every media platform. From Tyler "Ninja" Blevins on Twitch in the gaming world (who makes $500,000 a month playing the video game Fortnite) to Huda Kattan on Instagram in the beauty industry (whose Huda Beauty company was valued at $1.2 billion in 2017), influencers aren't necessarily people of whom you've heard. They are also people who are passionate about your industry and pay very close attention.
How influential are these comparatively lesser known – or shall say "niched" – social media personalities? Taking the beauty industry as an example, a recent study polled more than 500 women about their trusted sources of information.
Social media influencers: 67%
Third-party (peer-to-peer) product reviews: 59%
Beauty professionals: 55%
Company advertisements: 44%
Public figures and celebrities: 34%
We started this by talking about how celebrities were the original influencers. As you can see, times change, and so do the influencers. That happened because the audience has changed.
Influencer Marketing Trends
Consumers – your audience – are much savvier today than they've ever been. Gone are the Mad Men-esque days where Ronald Reagan could appear in a magazine ad next to a quote saying "Chesterfield is my favorite," and the cigarettes would fly off the shelves. Now, we understand that celebrities are paid for their endorsements – and that makes them less trustworthy.
As a result, influencer marketing has evolved into new forms, which can be utilized by both celebrities and the more niched influencers alike. Here, a couple of examples:
Testimonial marketing. It's like endorsement marketing, but much more personal. You'll see some of the most effective examples of this with podcasters who command a large audience. Pete Holmes, a comedian, actor, and producer, hosts the "You Made It Weird" podcast, which features a long-form celebrity interview in each episode. But for the first 8-10 minutes of the show, he talks about products that he uses in his daily life – and how he uses them – before he pitches promo codes for them, to be used at unique URLs.
Aspirational marketing. Nike has been using this type of marketing to great effect for generations. Most people will never perform at the level of the top-tier athletes featured in their campaigns. But they can achieve more realistic goals in their own lives, with products (and endorsers) who inspire them to push their limits.
Content marketing. Yes, good old-fashioned content marketing is being utilized by influencers far and wide. Lauren Conrad, who got her start on a reality TV show, parlayed what would have been her 15 minutes of fame into a lifestyle blog and a prolific social media presence. Now, she's a best-selling author and has her own clothing line, to say nothing of the six million followers on Instagram who want to know what other products, businesses, and causes she supports.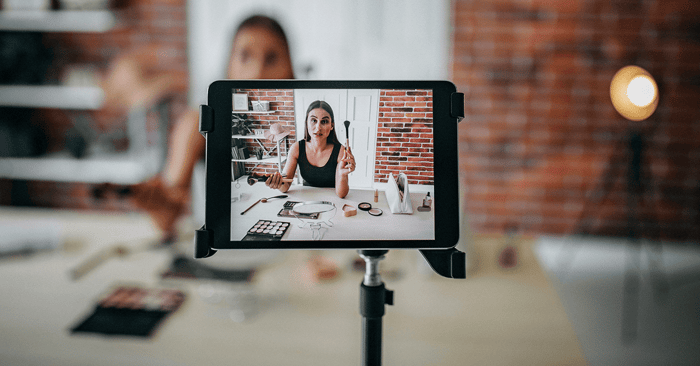 Types of Influencer Campaigns
Ultimately, the way you work with an influencer is only limited by your imagination! If you're looking for ideas, here are 8 types of people and campaigns you might consider.
Brand ambassador. These are people you invite to apply as representatives of your brand on social channels.
Niche influencer. These people are not widely-known celebrities, but are well respected within their area of expertise.
Celebrity influencer. If you've got the budget for it, you can swing for the fences. You just have to make the emotional connection with your audience to make it work.
Key opinion leaders. These people don't sell products and services in your industry – they report on or study your industry in some fashion.
Affiliate marketing. The Pete Holmes podcast description above is a prime example of this. He promotes an item with a unique URL, and gets a piece of every sale from that link.
Giveaways. Who doesn't like free stuff! The giveaway gives the influencer a chance to shine and share their benevolence with their followers, while talking about your product.
Unboxings. From tech to toys to everything in between, millions of video viewers love to watch people take new products out to the box, set them up, and use them for the first time.
Access. Giving an influencer the chance to preview something before it's released to the public, or to interview creatives and executives within your own company, can make an influencer that much more attention worthy.
How Well Do Influencer Campaigns Work?
Our partners at BigCommerce recently shared reports of three successful influencer campaigns. For Bigelow Tea, partnering with lifestyle bloggers led to 32,000+ blog engagements with 44 million impressions, and boosted Bigelow Tea sales by 18.5%. Turkish Airlines partnered with Snapchat influencer Jérôme Jarre and raised $2 million dollars to deliver food and water to Somalia – in just five days, with 80,000 contributors. And GOODFOODS partnered with influencers in multiple industries to generate 70,450 online engagements, and conversion rates between 34.2% and 44.5% (depending on the platform).
Stories of influencer marketing success abound: Subaru increasing sales 10% in 2016 (in the auto industry, which is as tough as it gets). The Daniel Wellington company, going from zero to $250 million in four years selling watches, and only via influencers. Kraft claiming a 3100% return (you read that number right) for a single influencer campaign.
These are the kinds of success that are driving growth within the influencer marketing industry – at $8 billion in 2019, it's estimated to reach $15 billion by 2022. And another recent survey found that 89% of marketing professionals say the ROI from influencer marketing is as good or better than any other marketing channel.
Could this kind of influencer marketing success be in your future? It's a unique field, and it requires serious research and strategy to get it right. Use this contact form to get in touch with Guidance and learn whether an influencer campaign is right for your brand.