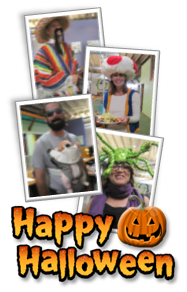 Our Annual Halloween Potluck Party was a ton of fun!
See for yourself on our new Social section here on Guidance's website -- http://www.guidance.com/about/social Also, check out our special "Halloween Look-alikes" album on our Facebook page --http://www.facebook.com/album.php?aid=252323&id=11521514227&ref=mf/
Congratulations to our costume contest winners – Radu for the funniest costume, John for the scariest costume and Kevin for the most creative costume. Craig was the winner of our "memory game", so congratulations to you too, Craig!
Have a safe and happy Halloween!
---
PS - Don't forget to

us on Facebook!