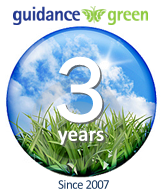 First time, second round … but third is a charm!
In the spirit of celebration, Guidance has sponsored planting of a new tree during Tree Musketeer's Arbor Day Celebration, this Saturday, March 6th from 9:30am to noon at Washington Park in El Segundo, Calif.
According to Tree Musketeers – the nation's first youth environmental organization – each new tree planted will generate $163,000 worth of oxygen, air pollution control, water recycling and soil erosion prevention while sequestering 2½ tons of CO2 over 50 years.
Besides helping the environment, Guidance's sponsorship helps commemorate the third anniversary of Guidance Green. Created in March 2007 by Guidance CTO & Co-Owner, Jon Provisor, the Guidance Green committee oversees the company's environmentally-friendly practices while keeping employees and the community in general informed about individual and business-wide efforts to help keep the planet green and healthy. Guidance is 100% carbon neutral and has offered carbon-neutral hosting for its clients since 2008.
Happy Anniversary, Guidance Green!