Forty-eight days and counting...We've launched ChristmasLTD.com just in time for the holiday shopping season!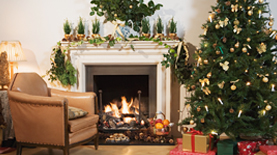 ClickToShop, one of Inc. Magazine Fastest Growing Private Companies and parent of multiple specialty eCommerce stores, wanted to upgrade to a scalable platform that would support and nurture their revenue growth.
Guidance deployed a Magento Enterprise 1.13 site that will not only support their robust business growth goals, but also accommodate a multi-store solution. (We previously launched OktoberfestHaus.com for ClickToShop as well, and they are targeting Magento implementation for like bModern.com, SteinbachNutcrackers.com and FrenchBistroFurniture.com too.)
Christmasltd.com launched with more than 4,300 SKUs - from Christmas trees to garland to decor - and is ready for Black Friday, Cyber Monday and the crush of holiday shoppers throughout the season. Hoping to match the pace set by Oktoberfesthaus.com of a 50% YoY revenue increase during its' peak sales season, christmasltd.com has been designed to encourage high conversions and loyalty.
For more detailed information on christmasltd.com, read the case study here.
Congratulations to ClickToShop and our project team who worked on this project!