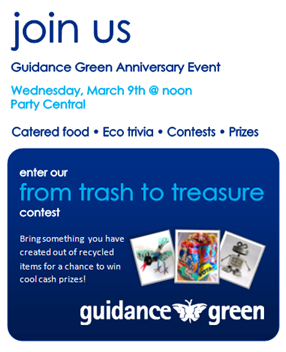 Our environmental committee, Guidance Green, is turning 4 next month! Since 2007, Guidance Green has spearheaded our company's efforts in reducing its carbon footprint and overall impact on the planet's natural resources.
To celebrate our fourth anniversary, Guidance is hosting an event on Wednesday, March 9th from noon to 1pm at our corporate headquarters in Marina del Rey. Join us as we review our green accomplishments over the last four years, along with catered food, eco trivia, contests, prizes and much more.
You can also enter our "From Trash to Treasure" contest for a chance to win cool cash prizes. Bring something you have created out of recycled items and turn your trash into cash!
For more information, contact us at green@guidance.com
Hope to see you on the 9th!
---
Debbie E.
Guidance Green