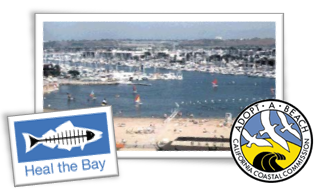 For our fourth year in a row, Guidance will be teaming up with Heal The Bay through their Adopt A Beach Program on Sunday, November 14th.
Guidance will be joining other volunteers from all over Los Angeles who will help rid our beaches of unsightly and harmful debris..
Please join us at Mother's Beach (4101 Admiralty Way, Marina del Rey, CA) on Sunday, November 14th at 10:00am. You'll see us with the light blue Guidance Green shirts. We hope to see you there!
If you are unable to attend this event, but would like to participate in future volunteer opportunities with Heal The Bay, sign up today at http://www.healthebay.org/volunteer/