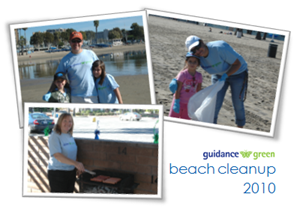 The Guidance Green team strikes again! For the fourth consecutive year, the Guidance Green team helped to clean up the beaches in Southern California. For a second time, we returned to Mother's Beach in Marina del Rey on Sunday, November 14th.
Here are some of our stats from our cleanup:
We collected over 10 pounds of trash
The most common piece of trash was bottle tops
We even found a golf ball!
After our busy morning we relaxed and enjoyed the California sun while enjoying BBQ hot dogs.
Check out pictures of the beach cleanup on our Facebook page.
We'll keep you posted on our next beach cleanup. We hope to see you there!