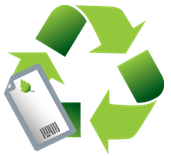 In keeping with our environmental commitment, Guidance is now offering employees the opportunity to view their paystubs online instead of receiving a paper copy at each pay period.
Guidance's environmental committee, appropriately named Guidance Green, met recently to discuss ways to continue to reduce, reuse and recycle in our workplace. Gabby, one of our new members, came up with this great idea to reduce paper waste.
Within a few short weeks Guidance was able to implement this new environmental initiative. Thanks Gabby for the idea!