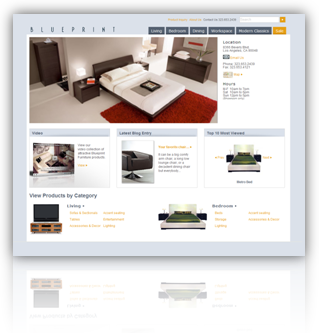 Blueprint 's online home got a wall-to-wall renovation when Guidance redesigned and rebuilt the modern furniture store's Web site,
BlueprintFurniture.com
. This is phase one of a multi-phase launch for Blueprint's site, which was built on Magento's eCommerce platform.
The original Blueprint site had an outdated look and platform that didn't match the company's contemporary style. In addition, Blueprint's site served only as a static product catalog, since it lacked checkout capabilities. For this first phase, Guidance laid out a new, more elegant and flexible design for the site, which allows Blueprint's site content managers to feature products – like the top 10 most viewed items – and special promotions. In addition, Guidance moved the site to the Magento eCommerce platform allowing for greater scalability. eCommerce capabilities will be added to the site during phase two of this project.
Guidance also provides Blueprint with ongoing hosting, managed and Web site maintenance services.
For over a decade, Blueprint has served an exclusive SoCal clientele. Its unique selection has caught the interest of set designers and stylists for feature films, television, music videos, and print ads.