They are paying in reals, rupees, won and rands. They don't speak your language, live a world away, have discovered your brand on social media or may have never heard of your brand.
But according to Flow Commerce, two-thirds of them (67%) have purchased from an online retailer outside their home country.
Welcome to the cross-border shopper. The internet knows no borders and neither do these shoppers. They are looking to shop across borders in search of better prices, better quality or items that aren't available in their market.
And they are contributing to a $4.8 trillion market by 2021.
Whether you're just scratching the surface on international expansion or looking to optimize your existing operations, this article will help you focus your efforts.
WHAT'S DRIVING CROSS-BORDER ECOMMERCE GROWTH AND WHY MERCHANTS ARE EMBRACING IT
Technology is constantly connecting consumers to products everywhere on the globe and global social media is driving product discoverability. So the rise of global ecommerce is not surprising. By 2021, it is estimated that about 25% of the world's population will be shopping online - 2.14 billion global digital buyers by 2021 and ecommerce will account for 18% of those sales, almost double of 2017.
Many merchants have saturated their home market. After all, there are over 7.5 billion people in the world, and only 325 million of them are in the US. As a result, 87% of executives believe their biggest growth potential lies with international online sales expansion and an overwhelming majority (88%) of executives believe that having an international presence will be essential for their company's success in the next five years. Additionally, selling internationally isn't just about the money. Executives cited increased brand awareness (46%) and expanded customer base (46%) at nearly the same rate as revenue (45%) as key benefits of expanding online sales internationally.
Beyond these non-commercial benefits, for traditional retailers, e-commerce can also serve as a testing ground to determine whether new, foreign markets will be successful before opening a physical location there. And with the increase in available cross-border selling technologies, brands are now able to:
○ Reach new demographics in different countries
○ Capitalize on the lower barrier-to-entry and decreased competition in smaller, developing markets
○ Create go-to-market approaches within different countries
○ Simply manage international shipping and logistics, thanks to emerging technologies
WHAT'S HOLDING SOME MERCHANTS BACK FROM CROSS-BORDER ECOMMERCE?
While the explosive rise of cross-border ecommerce has opened the door to a wealth of new opportunities, many merchants are struggling with sales strategies, logistics and more.
The international expansion journey can be a daunting venture with a number of challenges to overcome and little likelihood of immediate success. A vast majority of those who haven't expanded internationally (87%) haven't yet made any attempts to do so.
In fact, the majority of challenges that merchants face in international ecommerce are related to logistics specifically:
○ Navigating customs compliance (58%)
○ Tracking deliveries across borders (46%)
○ Managing delivery expectations (43%)
○ International logistics (30%)
○ International returns (24%)
As a result, you may be tempted to upload your products to a marketplace, but that strategy places your brand in the hands of a distributor. Rather than move to a marketplace model, there are options available to help enterprise and fast growing merchants establish direct to consumer relationships with shoppers around the world.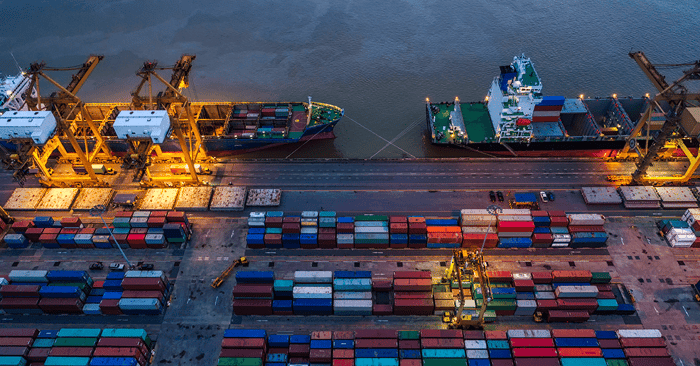 HERE ARE 15 TIPS TO CONSIDER TO SIMPLIFY YOUR CROSS-BORDER ECOMMERCE
Establishing this direct consumer relationship is about applying a customer experience lens to cross-border ecommerce and recognizing that all relationships are local. Successful cross-border ecommerce is not just about localizing a shopping cart into multiple languages, but rather being there during each phase of the shopping journey. Here are 15 tips to consider, extracted from Flow's step-by-step guide to global ecommerce.
Pre-purchase phase for cross-border ecommerce shoppers
When it comes to global ecommerce, the "build it and they will come" mindset will not work. You will need to invest in local markets as you do in your home country to help shoppers find you online.
1. Marketing Budget: Consider carving out a marketing budget for each international market you are entering so that you can build brand awareness, launch local promo­tions, and drive traffic to your newly localized e-commerce sites.
2. Global SEO: When building an SEO strategy for your global ecommerce site, follow the same principles that help you rank and build value in your home site. This means selecting, optimizing and translating for the keywords that global shoppers are likely to search for online and applying technical adjustments to your site to help search engines find and surface translated versions.
3. Localized email and marketing campaigns: In each market, it's important to be aware of any anti-spam legislation and what these laws require of email marketers. For ex­ample, anti-spam laws in the United States are based on an "opt-out" or unsubscribe model, while the EU's General Data Protection Regulation (GDPR) has particularly tough rules around consent. Singapore and Australia are also looking at tightening their anti-spam laws, and in California the California Consumer Privacy Act (CCPA) has set a very high bar for opt-ins.
Shopping and purchase phase for cross-border ecommerce shoppers
For every market you plan to enter, consider all aspects of the ecommerce experience, from browsing and checkout to payments and returns. This way, global customers will feel their experience on your site is native to them,
4. Translation: Speaking your customer's language can create a more personalized, native shopping experience that increases conversions and sales. Consider translating your site for your global markets, keeping in mind that the need for this can vary by market, size of product catalog, and other factors.
5. Currency: Display prices in local currency. Keep in mind that in some countries, shoppers are quite savvy about the exchange rate and do their own conversion calculations, so if you are padding the cost of an item in that region, they'll spot it. By displaying prices in the local customer's local currency, not only do you save them the time of calculating exchange rates, you deliver a customer experience that feels local and adheres to familiar shopping norms in their market.
6. Alternative Payment Methods: This can vary dramatically depending on your target country. For example, in China, 85% of online consumers prefer to use WeChat Pay, Alipay, and UnionPay to pay for purchases. In France the Carte Bancaire is a very popular payment method, while in Brazil the boleto bancario is most common, and in Germany SOFORT is common. And as cryptocurrencies become more widely used, some online retailers may even consider offering payment methods like Bitcoin in certain markets.
7. Taxes & Duties: Retailers and brands can unintentionally create friction-filled consumer experiences if they don't explicitly communicate the proper tax and duty costs to shoppers prior to purchase. Knowing and choosing the right e-commerce tax and duty option is critical to setting up consumers for smooth transactions.
8. Displaying Price, Tax and Duties: Define what pricing elements are included in the item price listed on your site. For example, if the base price of a pair of shoes is $10 and you want to add tax ($3) and duties ($2) to that, the new display price would be $15. In some markets, common practice or applicable law may be to show the taxes and duties listed separately from the price on the product page, so be sure to research best practices.
Fulfillment and delivery phase for cross-border ecommerce shoppers
Consider every step involved in the delivery journey, including returns and exchanges. Global shoppers want clear, localized shipping options and accurate delivery times, communicated pre-purchase, ensuring that their expectations are met.
9. Collect tax & duty at checkout: There are many different ways to display Delivered Duty Paid ( DDP) that don't detract from the consumer experience. For example, you can incorporate the duties & taxes into the price on the product detail page or add the cost as a separate line item at checkout.
10. Order fulfillment: Retailers must evaluate their order fulfillment processes to ensure they are reliable and efficient. They should also integrate with last-mile carriers who accommodate local delivery methods.
11. Tiered shipping options: Be sure to include delivery choices such as express, two-day, or one-day delivery so that your consumer can choose when they receive their items. As free shipping becomes more common in more markets, it is worth exploring this in certain markets where expectations are particularly high. For example, in some markets you can offer free shipping while in others you can offer a flat rate or order threshold to help subsidize the cost in other markets.
12. Carriers: Select and partner with the best shipping carriers to send your packages globally and optimize for fastest delivery times and/or lowest cost.
Post purchase phase for cross-border ecommerce shoppers
Global customers expect that online businesses are backed by real-people who are available to answer their questions and help address issues and needs in their local time zone.

13.

Return Policy:

Provide clear language for customers on how returns will be handled. Be sure to include information on how you handle goods that are damaged during the delivery process, such as your destroy in field (DIF) policy, if applicable.


14. Localized emails: Similar to editorial content, emails often have localized information such as prices, currencies and other information. Ensure that any transactional emails that are sent to your customers are updated with localized information.

15.

Localized FAQ:

Be sure to update any FAQ pages on each global e-commerce site to accurately reflect new global policies for orders, shipping, payments, currency, duties and taxes, returns and refunds. FAQs are one of the areas most global customers refer to in order to feel confident in placing a purchase on your site.


While expanding to sell into global markets has the power to transform your ecommerce business, capturing a share of the cross border ecommerce market can be daunting. Thankfully, advanced solutions are available that allow forward thinking merchants to provide fully localized, and branded ecommerce experiences without being slowed down by daily logistics, compliance and customs minutiae. To explore how to capture a greater share of the cross-border ecommerce market, Guidance is here to help.