If you are searching for new ways to drive traffic to your site, increase conversion and average order value, you might consider analytics and optimization.
Many an ecommerce merchant would love to emulate the data-driven prowess displayed by Amazon or Netflix. Yet many have trouble achieving tangible, repeatable business results. You can't compete with the scale, budget or talent of Amazon (who decided long ago that they are a technology company that happens to be in the ecommerce game). After all, it's not like you're going to invent the 1-click ordering button or anything.
Thankfully, as machine learning technologies get better at retrieving, interpreting and transforming ecommerce data, there are platforms on the market that can help merchants compete without hiring a team of data scientists. Yet despite the wide availability of these analytics platforms, many ecommerce companies are reluctant to adopt new technologies.
WHAT STUNTS THE ECOMMERCE ANALYTICS CAPABILITY?
According to Ben Virdee-Chapman, VP of Marketing for HiConversion, an ecommerce optimization software company, the adoption rate of popular A/B testing technologies continues to be very low. For example, HiConversion found that only around 11% of the top 4,000 brands on Magento (the #1 ecommerce platform in the US) are using a paid A/B testing solution.
And the plot twist is that A/B testing is in and of itself dated and doesn't keep pace with the always-on consumer. Traditional A/B testing could actually hurt a merchant's ability to adapt and change because it is dependent on a slow, manual process. With real-time and adaptive testing, what might take weeks and months with regular A/B testing can often be delivered in hours and days.
It can be costly and time consuming to build an analytics capability and adopt the technology. Many fall into the trap of spending more money to get ecommerce traffic, believing it is "easier" and more widely accepted than investing in an ecommerce optimization program.
For many, it is hard to figure out where to start with so many potential ideas and problems. The overwhelming possibilities for analytics and testing causes many teams to stagnate and never test anything or test in an undisciplined, non-scientific manner.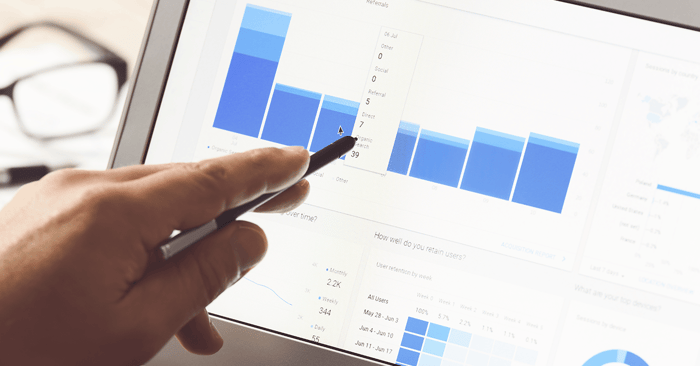 ECOMMERCE ANALYTICS: THE POWER OF SMALL TESTS
If any of this sounds familiar, this article will help you identify the top 5 ways to build a culture of ecommerce analytics and optimization. In a world of infinite possibilities, it's about focusing time, effort, and resources on optimizing features to deliver a speedy and convenient customer experience. It's also important to apply a customer-centric perspective to all steps in the ecommerce purchase journey, including finding an item, learning more about a product, completing a transaction and managing an order. We recommend starting with the conversion phase of the customer journey with these simple top 5 tests. And these tests don't require an overhaul of your UX or a major design overhaul.
Test #1: Form Autofills
Oh the beloved ecommerce form. Besides being one of the least popular requirements of online shopping, shoppers frequently make errors while keying or selecting a City and State. One of the form autofill tests available is the Zip Code autofill. This test reduces the amount of typing required during the payment and checkout process, ensures accuracy and by default increases the chance of a completed sale. This treatment will improve conversion rate by reducing the amount of time it takes for a user to complete the checkout process by autofilling City, State and Country when the Zip Code is entered.
Based on average results from 36 merchants, this test delivers an average lift on mobile of:
Revenue Per Visitor (RPV) 4.55%
Conversion rate (CR) 3.22%
Average Order Value (AOV) 1.5%
Test #2: Sticky Cart
It's easy to get distracted when shopping. And users will often place items in their cart, continue browsing, get distracted and forget to complete a purchase. This test reduces the chance of cart abandonment by adding additional access to the cart page with a persistent reminder to users that they have items in their cart.
Based on a recent client pilot, this test delivered a lift of:
Revenue Per Visitor (RPV) 2.31%
Test #3: Sticky Header
Users want to feel a sense of control and wayfinding when interacting with an ecommerce site. When a user continually has access to the navigation, all of the options are laid out in front of them. Nothing has to be "left behind" when scrolling in any direction. This test encourages users to continue browsing, add more items to the cart and then move onto the cart page by offering easier access to elements in the header.
Based on a recent client pilot, this test delivered a lift of:
Revenue Per Visitor (RPV) 6.2%
Test #4: Payment Options
Online shoppers are increasingly becoming impulse buyers, so anything that shaves seconds or minutes off the shopping experience will facilitate a transaction. A payment option like PayPal, when added to the checkout process, simplifies and minimizes the number of manual steps a customer must take to complete a payment. This test adds a PayPal and/or PayPal Credit button to the merchant's product page, product page mini cart or the cart page to enable a faster and easier checkout process that requires only two steps to complete.
Based on a recent client pilot, this test worked particularly well in mobile delivering a lift of:
Revenue Per Visitor (RPV) 5.04%
Test #5: Hide chat in cart and checkout
Being persistently available to shoppers via customer service chat is great – to a point. Especially on a cart or checkout page, any additional elements can distract users and prevent them from completing their purchase. This test suppresses chat elements on cart and checkout pages to reduce distractions and encourage visitors to complete their purchases faster.
Based on average results from 7 merchants this test delivers an average lift on mobile of:
Revenue Per Visitor (RPV) 15.22%
Conversion rate (CR) 11.47%
Average Order Value (AOV) 3.72%
While these top 5 tests and examples provide good insight into conversion optimization, they are only a starting point. Just like one day of clean eating or exercising won't deliver weight loss overnight, one-off tests won't deliver the lasting, compounding value that you want to achieve. In ecommerce analytics, it's all about having a strategy and systematically executing with adjustments along the way. To improve your ecommerce analytics capability and grow your AOV, Conversion and RPV, schedule a strategy session with Guidance.