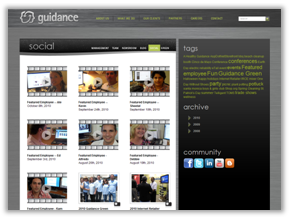 They say a picture is worth a thousand words. That probably makes video worth two full encyclopedia collections.
That's why we've created our no-words, just-pictures-and-videos, new Social section on Guidance.com, featuring videos and photos from our recent events, special occasions and other interesting stuff. See for yourself why we always say we've "had a blast" at our events. And check back after Halloween Day – you'll not want to miss those pictures. Go to About Us > Social.
Want to get even more social with Guidance? Check us out on Facebook, Twitter, YouTube, LinkedIn, Blogger … even Wikipedia.
Enjoy! - http://www.guidance.com/about/social