If you follow Guidance on social media, you know we launched the very first Magento 2 site in North America on an ambitious, 90-day timeline. Our client, a lingerie company called SOL, migrated from a community edition of Magento to their bold new platform, Magento 2.
Today's post is the third in our series on Magento 2 and it's features. (Readers who are just tuning in can visit our archives to read the previous entries.) We're proud to bring you development insights from Christina Petropoulos, the ace project manager who made our first Magento 2 launch such a success.
What was it like to be a Magento 2 beta partner?
I think the nature of being in any beta program is you know you'll be working with the team to uncover the bugs, help identify them and get them resolved. Early on, we were working through a process that was a little tricky because we were developing on a new framework. We had to ask ourselves, "Is this us? Is it our code? Or is this a legitimate bug?"
Tell us a little bit about your process.
In the beginning, we were working out how to log bugs, how to validate bugs and how to communicate them back to the Magento team. I think with each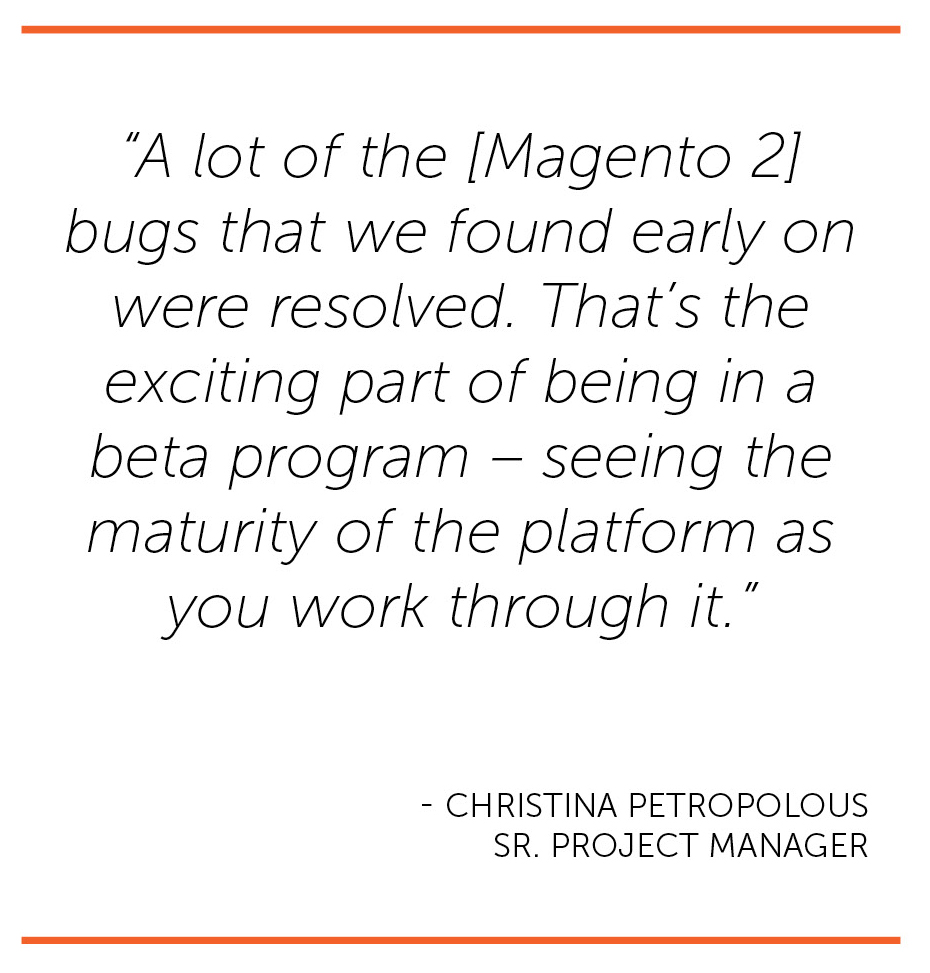 subsequent beta release, the code became more and more stable. A lot of the bugs that we found early on were resolved. That's the exciting part of being in a beta program – seeing the maturity of the platform as you work through it.
Internally, we had a clean install of 1.14 just to test functionality. Then we had a clean install of 2.0. It featured none of our code, none of our templates, none of our content and none of our client's products. We tested how the elements worked on 2.0. Then we had our development environment. We did a data migration of all the products from their existing community-edition site into our development environment.
When we came across issues during development, we asked ourselves, "How does this element work on 1.14? How does it work on 2.0 with no code and no products?" And then, "How does it work in our environment?" By having those three environments in parallel, we could deduce, "Aha. This is, in fact, a true Magento 2 bug." Then, as each release would come out from the Magento 2 beta team, we'd first put it into the clean install and check everything. They provided us with a list of bug fixes, so we could say, "Is our bug on the list?" Have they fixed this one yet? If we knew it was fixed on the Magento 2 clean install, we'd bring it into our environment and re-test it to see if it fixed our issue.
Sounds like you were very meticulous!
Yes. The process was quite time consuming – reproducing of bugs, verifying, making sure we had taken the proper steps to reproduce them to send back to the Magento team and making sure we were thorough in our reproducing of the issue.
How do you think Guidance differs from other Magento partners?
I think that some partners may shy away from seeing what Magento can do from a content management point of view. We were able to create some great features around that.
We took rich editorial content that might normally be on a non-eCommerce framework like Drupal or Joomla and worked it into the eCommerce experience. From a merchant point of view, of course you have a traditional eCommerce product listing page, a product detail page and a checkout, but you also have a website that is very rich with other content that keeps your customers engaged. They're coming back not just to shop but because there's content on the site that they find useful for research, information and social experience. We created some fun content elements that play on the SOL brand and their unique product offerings.
*****
Congratulations to the SOL team on a truly outstanding beta launch. Next week, we'll break down the perceived complexity of Magento 2 and explore more of its innovative features.