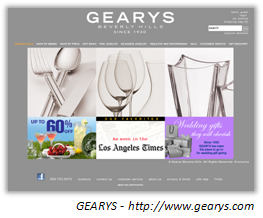 Known for its unparalleled collection of wedding gifts, dinnerware, silverware, and exquisite jewelry, GEARYS of Beverly Hills has been a symbol of luxury among Hollywood celebrities and A-listers since 1930.
Guidance has been working with GEARYS since 2007, when it first built the retailer's eCommerce website, www.gearys.com, on the shopping cart platform AspDotNetStorefront. Recently, the site underwent a number of frontend and back end changes, including a brand new design.
Among the changes the new site features are an updated gift registry as well as new product image resizing functionality. The homepage was also modified to facilitate merchandising, and the HTML code, CSS and XML/XSLT files were updated as well to incorporate the site's new design.
The Guidance team is currently working on an application that will allow GEARYS clients to post their bridal registries on Facebook. The applications is scheduled to go live at the end of the month.
To learn more, check out GEARYS website at http://www.gearys.com