BLOOMREACH
Data-driven Technology that Adapts Experiences to Deliver the Right Content

BloomReach's core technology, the Web Relevance Engine (WRE), harnesses the power of big data, machine learning and large-scale systems science to match relevant products to consumers at scale. The WRE is the underlying engine that powers the BloomRech Personalization Platform, continuously predicting and adapting in real-time to changes in consumer behavior, queries, site content, competitive content, and inventory.
Today's Unprecedented Challenge: Discovering Content Across Multiple Channels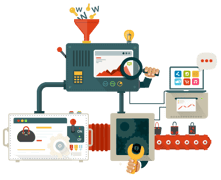 The WRE is the first Web-scale, big data marketing application dedicated to improving consumer experience, driving traffic and generating revenue by solving for three key issues related to discovery:
Product descriptions cannot cover the multitude of ways consumers describe those products.
"Big data" is more than just your own data.
Your site is constructed in a way that's difficult for search engines and customers to navigate.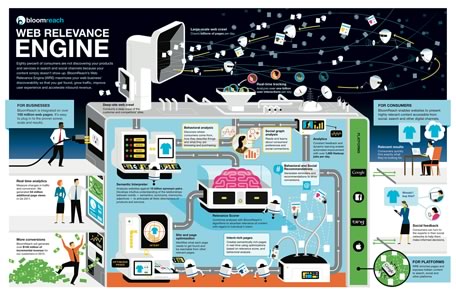 ADAPTATION THAT MATCHES INTENT
The WRE continuously predicts and adapts in real time to changes in consumer behavior, queries, site content, competitive content and inventory. Built from the ground up to target and deliver the most relevant content given a user's given explicit and implicit intentions, the WRE methodically:
Inspects and gathers data available on the Web
Builds a semantic understanding
Scores the content by user intention
Optimizes for relevance to the user
AND BY DATA, WE MEAN BIG.
You need data outside of your own walls to understand and capture demand.
The BloomReach WRE captures and processes massive amounts of data to help our customers connect their content with the right user at the right moment on the right device.
WANT NUMBERS? EACH DAY, THE WRE:
processes 5 terabytes of data
interprets 10 billion web pages
performs 5,000 Hadoop jobs
analyzes 1 billion consumer interactions
WANT TO LEARN MORE?