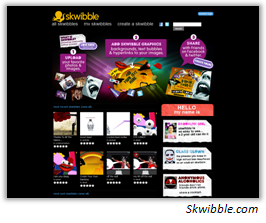 Skwibble is quite possibly our coolest client. Their site,
www.skwibble.com
, has the coolest, most creative content I've seen on the Web. From the talented minds behind The Arterie and Five33 creative agency in Los Angeles, Skwibble lets users express their personal creativity in the form of original artwork, messages, blogs and event announcements.
Guidance has been working with Skwibble since 2007, when it launched the first version of Skwibble.com. Back then, the site was a simple eCard service website, but through the years, Skwibble has been adding new features and content, and just recently, Guidance helped them re-launch the site to include new social features as well as an enhanced user experience.
The new site was built on Drupal CMS and Adobe Flash. Guidance provided Information Architecture, Technical Design, and Development services to build the site. We are also providing hosting, managed services and ongoing maintenance to Skwibble.com.
Check out the new site at www.skwibble.com Congratulations to the Skwibble team!