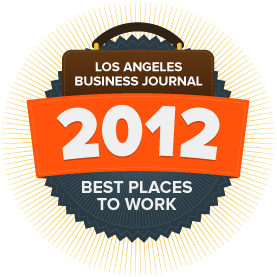 Today, Guidance was honored as one of the "2012 Best Places to Work in LA" by the Los Angeles Business Journal.
Out of the thousands of businesses in L.A., we are especially thrilled to be recognized as one of the best once more.
"Winning the LABJ honor for the third time is exciting. We participate largely to learn from the LABJ survey which evaluates several areas of employee satisfaction, among other things. But receiving this honor again reinforces that a team with great people can achieve great things," said Jason Meugniot, Owner & CEO of Guidance.
This ranking is dedicated to identifying and recognizing the best employers in Los Angeles County. The list is determined by the results of a two-part process designed to gather detailed data about each participating company. In part one, the employer completes a questionnaire and in part two, employees of the company complete an employee survey.
Thank you Los Angeles Business Journal and thank you to our employees for making this happen!