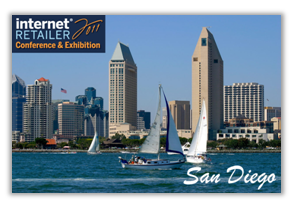 They're coming to town! The world's largest eCommerce event is coming to Southern California this year. Internet Retailer's Conference & Exhibition (IRCE) brings together over 7,000 eCommerce professionals and 500 exhibitors – Guidance among them – for the largest display of state-of-the-art online retail technologies ever assembled.
This year's event will take place at the San Diego Convention Center from June 13th to the 17th. San Diego is a short two-hour drive for us at Guidance's headquarters in Marina del Rey (L.A.), so we're sending an entire troop to the show – Jason, Jon, Mike, Thet, Ed & I will be there. Make sure to stop by booth #1016 to meet with us!
We'll be showcasing our most recent Magento and Mediachase sites, as well as our recently launched mobile sites and our ATG and Facebook Commerce capabilities. We are also partnering with Magento at the show so stay tuned for more details!
If you're planning on attending the show and want to meet with one of us to discuss your eCommerce project, send us an email and we'll schedule an appointment with you while at IRCE – irce2011@guidance.com.
See you in San Diego!