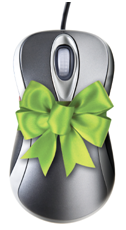 Holiday online retail was off to a great start! Our clients' sites have reported all-time highs this past Cyber Monday, and it looks like they weren't the only ones. According to marketing research firm comScore Inc., Cyber Monday 2010 brought in $1.028 billion to retailers online, the first time in eCommerce history that online sales exceed $1 billion in one day. Prior to that, December 15th, 2009 held the title with $913 million.
Here are a few Cyber Monday 2010 highlights as reported by comScore:
Sales rose 15.9% from the $887 million recorded last year
Buyers spent in average nearly 12% more this Cyber Monday than last year's, with an average spending of $114.24
The total number of Cyber Monday online shoppers rose 3.4% for an estimated total of 9 million buyers
The number of transactions increased 5.6% to 17.1 million, as well as the average online purchase, which went up 9.5% to $60.05
About half of all Cyber Monday dollars were spent shopping from work computers, approximately 48.9%
Click here to read comScore's full press release.
Happy Holidays!