If you want to find a fraudster, follow the money trail. One of those trails will lead you to the booming ecommerce industry, where online sales of physical goods in the US were $365.2 billion in 2019 and projected to reach close to $600 billion in 2024.
As the amount of money flowing through ecommerce increases, the incentive to steal a piece of it grows as well. According to LexisNexis, the impact on merchants is significant:
Overall retail fraud attempts doubled year-over-year and tripled since 2017
Merchants pay $3.13 per lost dollar on average
The average monthly fraud volume rose 133 percent for mid- to large-sized retailers selling digital goods through the mobile channel
It's a constant cat and mouse game. Evolving technology makes life easier for consumers purchasing online, but it also makes things easier for fraudsters. Not a merchant on Earth wants to alienate customers by rejecting their order because of fraud suspicions. But they also don't want to be hit with chargebacks and fees.
The increasing sophistication of stealing customer data and committing chargeback from organized fraud rings demands an equally sophisticated response from merchants.
Below are five best practices to help ecommerce merchants reduce their fraud risk and deliver a better shopper experience.
Document the delivery
This is critical for chargeback fraud, also known as friendly fraud. In chargeback fraud, a customer claims a product was never delivered and will demand a chargeback from the issuing bank after they have received their purchase. The return will be initiated by the issuing bank and the merchant will be held accountable. In addition, the merchant will have to pay for all transaction fees, lost shipping – all on top of the loss of the physical item they shipped. By documenting the delivery with a tracking number, you have confirmation that a product was delivered to a customer. And for an added layer of protection, consider having a package signed for upon delivery.
Maintain your PCI compliance
The Payment Card Industry Data Security Standard (PCI DSS) is an industry standard for processing and transmitting credit card data and is required for any company that processes, stores or handles credit card data. Maintaining PCI compliance means following a set of guidelines and rules to protect ecommerce customer data. The goals and high level requirements for maintaining PCI compliance include encrypting cardholder data that is transmitted across open, public networks and implementing and actively updating anti-virus software. It's also important to conduct regular PCI scans several times a year to reduce the risk of your ecommerce store being vulnerable to hacking attempts.
Embrace machine learning
Legacy methods of ecommerce fraud prevention such as rules engines and scoring may be too rigid to adapt to the ever-evolving nature of fraud. Today, big data and machine learning can produce faster, more accurate decisions on whether orders are fraudulent or should be shipped.
This greatly reduces the need for manual order reviews and ensures that orders pass quickly through fraud checks and on to fulfillment.
Fraud prevention technologies like Bolt are on the leading edge of this technology. Bolt's fraud model is trained on over 200+ behavioral signals (including type speed and copy/paste behavior) through the customer's shopping journey and millions of historical orders across their network of retailers. Bolt can also be trained on a merchant's historical transaction data ensuring that best customers are approved from day one.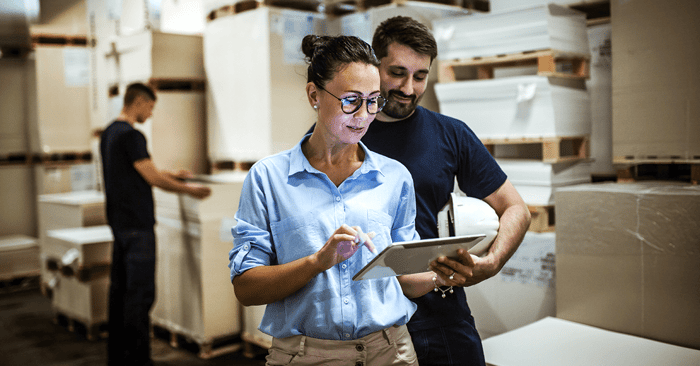 Don't forget the humans
Detecting fraud isn't always clear or easy. While machine learning can solve the simple fraud cases, sometimes more complex cases require human intervention. In the case of Bolt, they approve 95% of orders on average within seconds, but outliers are reviewed, manually. In other words, if the machine learning model can't approve a transaction, it is sent to a human. This combination of machine learning and human intervention can reduce false positives and deliver higher approval rates than machine-learning-only options
Simplify the cart and checkout experience
This is something that many merchants struggle with, as it is well known that one of the leading causes of shopping cart abandonment is too much friction at checkout. This friction creates a bottleneck during checkout without adding any benefit to the customer. And it often results in customer churn and lost revenue. With each additional field in the checkout process, shoppers have a higher chance of not completing their order. And while adding security measures at checkout may help reduce fraud, it may also introduce friction.
But the two don't have to be mutually exclusive. The solution is to bundle. With Bolt, the fraud prevention technology is paired with the checkout solution. With this pairing, Bolt is able to simplify the checkout experience and reduce the amount of billing information required from the customer to just 4 fields: the CC number, Expiration date, name, & CVV. As an added benefit to shoppers, they can save their shipping and payment at the end of the checkout. And when they return to a merchant's site, they can complete checkout with 1-click that doesn't require a traditional checkout flow. According to Bolt, shoppers who leverage 1-click checkout complete orders at a 57% higher rate than shoppers who go through guest checkout. This is in contrast to the traditional checkout experience which often requires a complete billing address. Also, because checkout and fraud work hand in hand, Bolt is able to approve more orders and offer complete protection from fraudulent transactions on a merchant's site.
In the constant cat and mouse game of online fraud, merchants can gain an advantage by following these best practices. Newer responses from merchants include embracing machine learning and simplifying the checkout experience. While simplifying the checkout experience seems to contradict adding security measures at checkout, a paired fraud and checkout solution resolves this contradiction. To explore whether this paired solution is right for your business, schedule a 30 minute Guidance consultation.