The Site Features the Specialty Coffee Retailer's New Line of Single-Serve Beverage Systems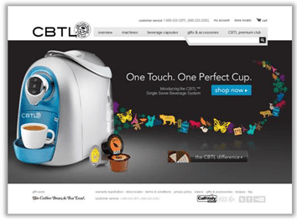 MARINA DEL REY, Calif. - December 1st, 2010 – Guidance
(
www.guidance.com
),
which builds captivating and engaging online and mobile shopping experiences, is pleased to announce the launch of CBTL.com, a brand new website for The Coffee Bean & Tea Leaf™, the oldest and largest privately-held coffee and tea retail business in the U.S. The site features the company's new line of single-serve beverage systems, called CBTL™. CBTL products are available at select The Coffee Bean & Tea Leaf stores and online at
www.cbtl.com
.
Information Architecture, Visual Design, Technical Design and Development services were provided to The Coffee Bean & Tea Leaf to build CBTL.com. Guidance chose Mediachase's eCommerce framework (ECF™) as the site's platform because of its modular and extensible architecture, which allows for customizations and integrations with third party tools to add new features to the site, both now and in the future. In addition, ECF supports payment plans to implement subscription systems – a feature desired by project stakeholders at The Coffee Bean & Tea Leaf.
The platform was integrated with UPS shipping software for live shipping rates and address validation; with Worldship for fulfillment; with Microsoft CRM for product warranty registration; and with Monetra Payment Gateway for credit card and gift card processing. Special features of the site include subscription management, enhanced content management system, and built-from-scratch ratings & reviews and store locator.
CBTL.com visitors are automatically prompted to select from a variety of beverage capsules when adding a machine to their cart, as these are required by the beverage system to brew fresh espresso, coffee or tea. Users can also sign up for the CBTL Premium Club which provides recurring monthly shipments of beverage capsules and flavored powder sachets. Glasses, capsule holders and other coffee-making utensils are also sold on the website.
Understanding the challenges of introducing a new product to the market, CBTL.com features a variety of videos on how to use, care and maintain their machines, demos of their different beverage systems, and recipes to make coffee favorites like cappuccinos, vanilla lattes and café au lait, among others.
"As their vendor – and, quite frequently, their customer –, we are pleased by the trust that The Coffee Bean & Tea Leaf has put on Guidance to support the launch of their new product line, CBTL," said Jon Provisor, CTO of Guidance. "We are committed to the success of CBTL.com and are certain that our work will render great results for the brand."
To learn more about Guidance, visit visit www.guidance.com.
---
About Guidance
Since 1993, Guidance (www.guidance.com) has helped companies seize opportunities and solve problems through the innovative and practical use of technology. Guidance designs, builds and maintains eCommerce websites for retailers that are pure-play online or multi-channel – creating captivating experiences so consumers will buy more, come back often and value greater engagement with the retailer. To date, Guidance's systems have facilitated over $3 billion in online sales. Members of the Guidance team are seasoned professionals, passionately committed to providing technical leadership and powering ingenuity. Key clients include Foot Locker, The Coffee Bean & Tea Leaf, ONEHOPE Wine, Relax the Back, Quark, and many others. Partners include: Microsoft, Magento, Mediachase, ATG, and Telligent. Guidance is based in Marina del Rey, Calif.
About The Coffee Bean & Tea Leaf
With a reputation for excellence, The Coffee Bean & Tea Leaf has been providing the highest quality coffee and teas for over 40 years. Since 1963, searching for the finest and rarest loose-leaf teas and premium coffees has been a tradition, offering over 22 varieties of coffee and 20 kinds of tea. Headquartered in Los Angeles, California, The Coffee Bean & Tea Leaf has over 750 locations in 22 countries. To learn more, visit www.coffeebean.com.
About CBTL
The CBTL™/ Caffitaly is an easy to use, single serve brewing system that combines the handcrafted taste and quality that is the hallmark of The Coffee Bean & Tea Leaf® with the finest Italian technology and design perfected by CAFFITALY SYSTEM. One capsule is all you need to create a single serving to savor. One touch is all it takes to brew fresh espresso, brewed coffee or tea. One taste is enough to transport you to a moment of comfort – the comfort of one perfect cup.
---
Media Contact for Guidance
Alejandra Espinosa
Director, PR & Marketing
Phone: (310) 754-4000

press@guidance.com