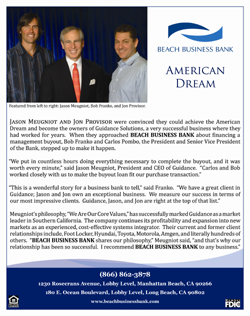 MARINA DEL REY, CA - May 22nd, 2008 - Jason Meugniot and Jon Provisor were convinced they could achieve the American Dream and become the owners of Guidance Solutions, a very successful business where they had worked for years. When they approached BEACH BUSINESS BANK about financing a management buyout, Bob Franko and Carlos Pombo, the President and Senior Vice President of the Bank, stepped up to make it happen.
"We put in countless hours doing everything necessary to complete the buyout, and it was worth every minute," said Jason Meugniot, President and CEO of Guidance. "Carlos and Bob worked closely with us to make the buyout loan fit our purchase transaction."
"This is a wonderful story for a business bank to tell," said Franko. "We have a great client in Guidance; Jason and Jon own an exceptional business. We measure our success in terms of our most impressive clients. Guidance, Jason, and Jon are right at the top of that list."
Meugniot's philosophy, "We Are Our Core Values," has successfully marked Guidance as a market leader in Southern California. The company continues its profitability and expansion into new markets as an experienced, cost-effective systems integrator. Their current and former client relationships include, Foot Locker, Hyundai, Toyota, Motorola, Amgen, and literally hundreds of others. "Beach Business Bank shares our philosophy," Meugniot said, "and that's why our relationship has been so successful. I recommend Beach Business Bank to any business."
---
About Guidance
Since 1993, Guidance (www.guidance.com) has helped companies seize opportunities and solve problems through the innovative and practical use of technology. Guidance designs, builds and maintains eCommerce websites for retailers that are pure-play online or multi-channel – creating captivating experiences so consumers will buy more, come back often and value greater engagement with the retailer. Guidance's systems facilitate $500 million in online sales every year. Members of the Guidance team are seasoned professionals, passionately committed to providing technical leadership and powering ingenuity. Key clients include Foot Locker, GEARYS Beverly Hills, Relax the Back, Salvation Army, and many others. Partners include: Microsoft, AspDotNetStorefront, Mediachase and Telligent. Guidance is based in Marina del Rey, Calif.
---
Media Contact for Guidance
Alejandra Espinosa
Director, PR & Marketing
Phone: (310) 754-3895
Email: press@guidance.com