MARINA DEL REY, Calif. (June 3, 2014) – Guidance, a web and mobile eCommerce design and development agency trusted by Internet Retailer Top 500 companies, announced today that it has been granted FitForCommerce Verification status in the eCommerce System Integrator category, for its expertise with Magento Enterprise.
"We are proud to have received the FFC Verified designation for our Magento Enterprise expertise," said Jason Meugniot, CEO of Guidance. "FitForCommerce's independent and unbiased review will assist retailers who seek a quality Magento Enterprise partner," he continued.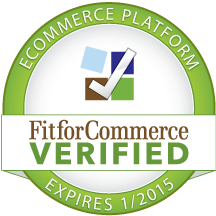 FitForCommerce Verification or "FFC Verified" is a structured evaluation process by which a certified analyst reviews claims and proof points for pre-defined features and capabilities important to an eCommerce website and business. FFC Verification is a recognized industry standard evaluation method.
"Achieving the FitForCommerce Verification for Magento Enterprise is a great accomplishment for any provider," said Bernadine Wu, CEO of FitForCommerce. "We confidently granted this designation to Guidance based on their numerous quality proof points of Magento Enterprise."
About Guidance
Guidance designs, builds and hosts highly customized eCommerce solutions for today's leading retailers.Since 1993, national retailers and consumer product manufacturers alike have relied on Guidance's expertise to facilitate more than $3 billion in web, mobile and social eCommerce.
Brands such as Bank of America, The Coffee Bean & Tea Leaf, Foot Locker, Honda, Hyundai, Intel, Mars, Nike, Oakley, Relax the Back, TOMS Shoes, Walt Disney and others, have engaged Guidance to build more than 300 world-class, multi-channel websites and apps that captivate, engage and incite loyalty.
Learn more at http://www.guidance.com.
###
Press Release PDF: ffc_verified_ns.pdf