Do your customers really love you? There are any number of ways to answer this question, and a good one is, "So much that they'll go out of their way to recommend us to their family and friends." And people are inclined to spread the good word via word of mouth. According to a recent study, nearly 60% of brand-loyal shoppers not only spend more money, but also refer friends and family to those brands.
Referrals aren't just offered. They're also actively solicited. 82% of those surveyed in the US ask their friends and family for recommendations before buying products.
But do those referrals pay off? It would seem so. Referred leads convert as much as 30% better than non-referred leads, with a 16% higher lifetime value and a 37% better retention rate. They're also 4 times more likely to refer more customers. It would seem that referrals are the gift that keeps on giving.
As technology and communication platforms have evolved, so has word of mouth referral marketing. And the potential for leveraging it in your ecommerce business has never been better. We spoke with Audrey O'Regan at Yotpo, one of Guidance's solution partners for referral, review, and loyalty programs. We talked about the goals of referral programs, how these programs have evolved, how social media impacts them, and how they can play along with loyalty programs.
Let's set a baseline and define referral programs and their goals.
Referrals are an extension of word of mouth marketing. Referral programs are using those happy customers that love your brand to acquire new ones. If a friend tells you to check out an incredible restaurant, you're 10X more likely to go to that restaurant than you are if you see an ad about it. Imagine if every time you recommend a friend to a restaurant and they go, you get a gift card to go to that restaurant, too. However, in this case, you earn rewards on your successful recommendations. It's a win-win situation.
How would a referral program work hand-in-hand with a loyalty program?
Referral and loyalty programs are complementary. In points-based programs, customers are incentivized by brands to undertake specific actions to help them earn points on their rewards account. Examples of these actions would be "Earn 2X points per dollar spent" or "Refer your friend to earn 40 points."
Or, for a more detailed example, imagine your customer leaves a five-star review on products they have just purchased, and automatically receives a text message offering 50 points if they sign up for your brand's loyalty program. This allows your brand to have reviews and loyalty products working together to enhance the customer experience.
The end goal is earning more points on your account to hit a certain VIP tier using both the loyalty program and the referral program together. This incentivizes you to go back on the website to make more purchases, which, in turn, significantly increases the Customer Lifetime Value.
How have referral programs evolved over the years?
The primary purpose of referrals is to share sentiment and spread loyalty. What has evolved is the ease of use and the ability for brands to mobilize more of their advocates to actively and easily share the referral benefits.
With Yotpo, for example, it's not necessary for a customer to sign into their account prior to making a referral. They can simply type in a friend's email address and refer them right from the widget, reducing extra steps and increasing the number of referrals. There is also the ability to refer friends through SMS, which (depending on the customer demographic) can be a much more effective strategy. The fact that it's not a popup, lightbox, etc., dramatically improves the customer experience both on desktop and mobile. Using JavaScript, it can be embedded anywhere on the site, including the post-purchase thank you page.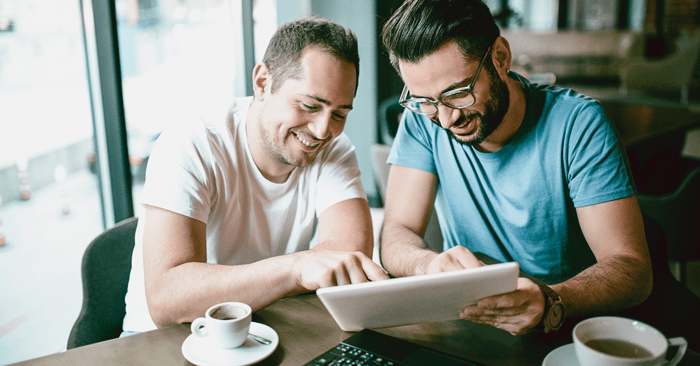 What's one of the most effective referral programs you've seen and/or created?
We work with a pen brand that leverages our referral program. If their customer refers the brand to 10 friends, they get free ink for life.
The value of new customers is high, and ink is cheap (compared to the pen itself). It actually made sense for them to give ink cartridges away to gain those 10 new customers. It's super creative. This is the type of program that we love to see, because it's very outside-the-box and benefits the bottom line of the brand.
Two (2%) percent of all new customers acquired come from the referral program. Referred customers are 60% more valuable than average customers, and referring customers purchase 183% more than average customers. This happened within less than six months of launching the program.
What role or value does social media have in a referral program?
Social media has played less of a role in the success of referral programs than you would expect. We have plenty of customers who elect to share their referral links or experiences with friends on social. These types of shares function more as mass marketing than to directly generate new conversions. It's like the direct mail equivalent of referral marketing.
The most successful referral programs promote personal, one-on-one referral shares. It's your friend turning to you and telling you about a product via word-of-mouth marketing, rather than someone sharing a broad statement on a Facebook page. You're more likely to listen.
There's no particular vertical that works well on social, and no specific social platform that works well for referrals, from what we've seen. For us, referrals through texts, email, onsite, or Facebook Messenger (since it also has that one-to-one interaction) have the most success.
How does Yotpo's referral program product fit into the overall suite of Yotpo services?
What we're building is a holistic ecommerce marketing platform. The main pillars right now consist of reviews, UGC [user-generated content], loyalty, referrals, and – what's going to be really interesting – the most recent acquisition of our marketing automation tool, SMS Bump.
By leveraging all of the customer data and insights throughout a customer's journey, we're able to help our clients enhance and personalize customer experiences throughout the path to purchase. This ultimately drives growth. You can see this currently powering our smart filters on reviews within our insights dashboards and through our loyalty segments.
We're doubling down on these efforts in 2020 to apply the same innovation to visual marketing and SMS, while also continuing to enhance our existing product lines. The mission is to allow our clients to automatically or easily create a hyper-personalized consumer journey for their customers using our platform, because we know this encourages brand loyalty and ultimately delivers ecommerce success.
Learn more about how Guidance and Yotpo work together to help ecommerce brands with referral programs, loyalty programs, and much more.