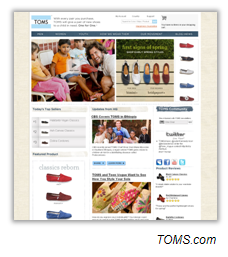 Guidance redesigned and developed the new site for TOMS Shoes (www.toms.com), which officially launched today. The popular footwear retailer has quickly gained recognition for its giving principle, known as the "One for One" movement. For every pair of shoes purchased, TOMS gives a pair of new shoes to a child in need.
The new site, built on Magento Enterprise edition, features a more dynamic, social commerce-focused design, which includes videos, live Twitter feeds, product reviews, and the day's top sellers. The design also features nice subtleties like a natural canvas background and blue canvas navigation. TOMS' signature shoes are made out of canvas material.
Other features and functionality of the new site include: quick view, live chat, 'featured product' merchandising, Suckerfish navigation, category and item views, product size availability preview, and single-page checkout.
In 2006, Blake Mycoskie launched TOMS Shoes in Venice, California. Retailers embraced Mycoskie's version of the Argentine alpargata and TOMS sold 10,000 pairs during their first year in business. As a result, he returned to Argentina in October of 2006 to unveil the second phase of his business plan: the Shoe Drop Tour. These are volunteer opportunities where TOMS Shoes supporters hand-deliver shoes to children. As of January 2010, TOMS has provided over 400,000 shoes to children in need around the world.