Spending related to augmented reality (AR) was projected to hit $60 billion in 2020 by the Harvard Business Review – significant enough by itself, but now? Consider that in 2017, 22% of consumers previously said they'd be far less likely to go to a brick-and-mortar store if they could use an augmented reality feature instead. Experts have estimated the pandemic has accelerated AR ecommerce usage (and growth) by over 5 years.
Even when we weren't living in a time of social distancing guidelines, stay-at-home orders, or non-essential-business closures, consumers were – and still are – shopping online. And during those "normal" times, augmented reality (AR) was already making its presence felt in the world of ecommerce. Back in 2018, Lowe's was reporting an average order value (AOV) increase of 104% thanks to AR. The home design business Houzz observed that interacting with products in augmented reality made them 11 times more likely to purchase the product. And a consumer survey found that 78% of respondents who were familiar with augmented reality actually preferred the augmented reality experience to the comparatively more passive video watching experience. Now, with more consumers than ever shopping online, augmented reality is the one of the most important post-pandemic pivots you can make for your business.
What Is Augmented Reality?
It may be easiest to talk about augmented reality in terms of a spectrum of digital representations of your product. The simplest form would be 3D imaging. You've seen this in action on websites that offer 360-degree views of a product, which you can rotate any way with a touch on your screen or trackpad.
Moving along the spectrum toward more complex presentations of your product is augmented reality. This is the term for when you add a layer of digital information on top of the real-world environment. One very popular way this is achieved is through smartphone apps that let you look through your phone's camera lens, while projecting images of items so it looks like those items are right there, in the physical world.
Perhaps one of the best known versions of this is the mobile gaming app Pokemon GO!, which allows players to find and capture the various game characters in real-world locations. Another easy to understand application, which has become more prevalent with the advent of social distancing guidelines, is the ability to look through your phone's camera lens and see a ring projected around you that tells you when another person comes within six feet of you.
Superimposing graphics and other information over a real-world view – thus augmenting your view of an existing real-world environment – is different from virtual reality, though the terms are sometimes used interchangeably. While they are similar in that you can interact virtually with elements presented to you within an application, virtual reality is much more complex. It takes you out of the real-world environment entirely, into a fully digital space. Headsets like the Oculus Rift and Oculus Quest are examples of consumer-level virtual reality hardware. These provide a completely immersive experience.
The Benefits of Augmented Reality for Product Visualization
When you think about ecommerce, you think about things like the customer journey, the frictionless nature of the funnel, encouraging loyalty and so on. From the consumer perspective, though, the ecommerce experience needs to be easy, fun and convenient. Augmented reality provides all of these benefits and more. Here are three key ways product visualization through augmented reality enhances the shopping experience.
Product variations: One study found that 77% of consumers use augmented reality in the shopping experience to experiment with different attributes of a product, such as colors or patterns. Imagine the fun of looking through your phone's camera and swiping to see different watches or bracelets adorning your wrist and you've got a good idea of how this works.
Ease of experimentation: Building on the idea of product variations is the ease of experimentation aspect. It would be relatively easy to try on a dozen bracelets in a short amount of time in the real world. But what about something like makeup? Trying out a dozen foundations or blushes one after the other would be almost impossible by comparison. Using an augmented reality app to see each applied virtually is much more efficient.
Better for the bigger: Two shades of concealer too close to call? It's easy (and usually inexpensive) to get both, and retailers like Sephora and MAC Cosmetics will let consumers return even "gently used" makeup. But what about furniture? As awesome as it is to consider the possibility of buying three couches, having them delivered to your house and returning two of them, that doesn't work financially in the real world. But it does in the virtual! Not only can a consumer experiment with a variety of large furniture pieces via augmented reality in their living spaces, they can also experiment with placement of those pieces, saving them a lot of heavy rearranging work when the one perfect couch finally arrives.
How Benefit Cosmetics Has Leveraged Augmented Reality
Known for helping women create their perfect arched brow, Benefit has created an augmented reality tool, aptly named Brow Try-On. If you're curious what you'd look like with straighter, thicker, lighter, or darker brows, this tool is meant to keep you from gambling with tweezing or buying unnecessary products. Instead, Brow Try-On creates different brow styles on your face so you can decide what looks best—all virtually. Once you've found your perfect look, the tool suggests the best products for you. Or the customer has the option of taking the image into a Brow Bar where an expert will create the look for you. Guidance helped Benefit Cosmetics implement an exciting solution for all those searching for the perfectly arched brow.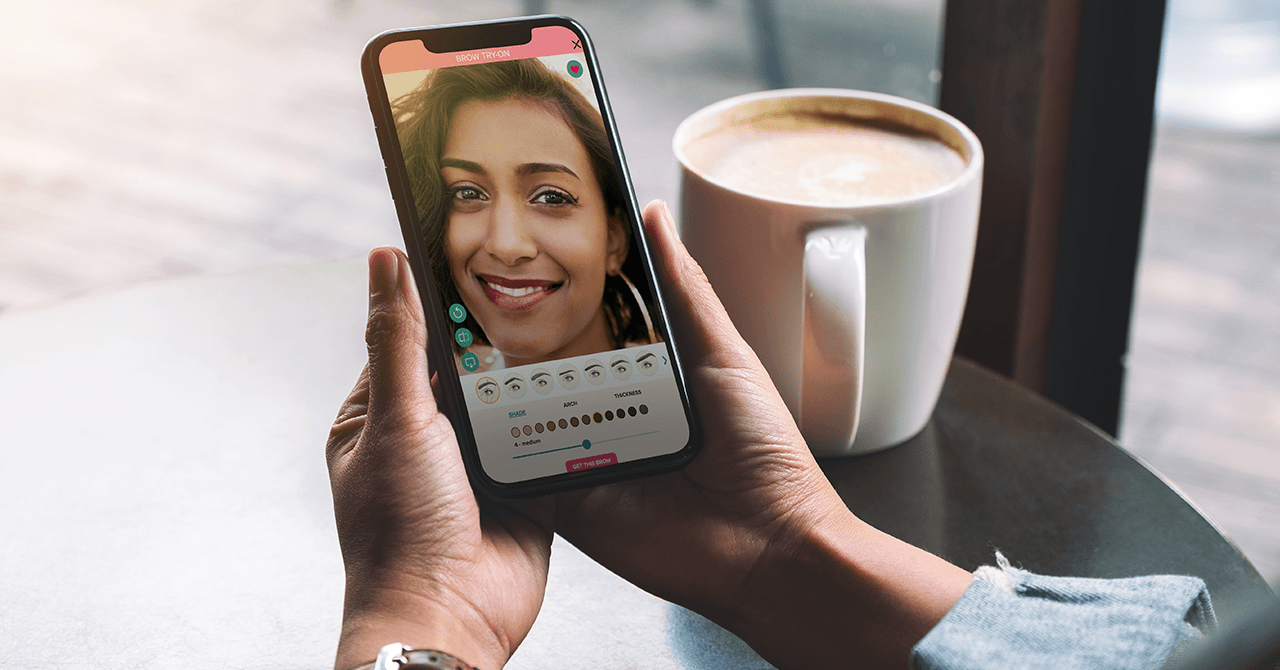 Here's how it works: Go to BenefitCosmetics.com/brows and select "Brow Try-On." From the interface, the user uploads a photo or takes one with their phone or computer camera—or the user can "try on" live. It will ask for the start, arch, and tail of the desired brow look and the user can adjust accordingly. Customers can select from over 15 brow shapes and 6 different colors depending on personal preferences. Users can also tailor the arch, thickness, definition and placement of their brows based on their current style or desired new shape. Once the customer finds the perfect look, the app will indicate the products needed to achieve it plus any services needed to create or shape the brow.
Getting Started With Augmented Reality Applications
One of our ecommerce partners, Shopify, has their own native solution, Shopify AR. Verticals from pet care to sporting goods, cookware to entertainment have taken advantage of this visualization option, and businesses can work directly with Shopify to have 3D models of their products created for augmented reality use. Your ecommerce platform doesn't have to have its own augmented reality app built into it, though. There are plenty of examples of third-party developers integrating with ecommerce platforms.
Which products are best suited for augmented reality? Furniture scored the top spot in one recent study, followed by clothing, groceries, shoes, makeup and jewelry. What's additionally interesting about these products is that many of them appear in the top categories of items that consumers don't want to buy online because they fear the return process is too difficult. When it comes to augmented reality, though, 63% of consumers say it improves their shopping experience; 45% say it saves them time with purchasing decisions; and 73% reported high or very high satisfaction with their augmented reality shopping experiences. Thus, augmented reality has the potential to improve results even in challenging ecommerce categories.
Is augmented reality right for your business? What kind of product visualization tools and techniques are you using right now, and are they contributing positively to your consumer's purchase likelihood, frequency, and average order value? Use this contact form to get in touch with Guidance and learn more about how augmented reality can boost your ecommerce business.