The Mobile Retailer Webinar- How Merchants Like Charming Charlie & More Put Mobile First - Thursday, July 21, 2016 at 10a PT
ORIGINAL EVENT DESCRIPTION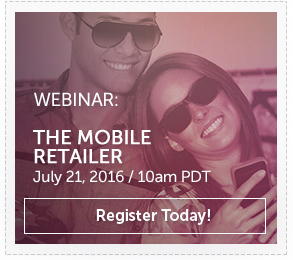 For many retailers, mobile is central to both shopping and overall brand experience, and mobile commerce is no longer simply a branch of ecommerce. Some say that it is ecommerce. As a result, progressive retailers have fully embraced "Mobile First" thinking.
Brian Beck, Guidance SVP of Ecommerce & Omni-channel Strategy, and Kate Kirkpatrick, Charming Charlie VP of Ecommerce, will detail how retailers such as Charming Charlie and others have taken mobile by the reigns and achieved impressive results.
On
Thursday, July 21, 2016 at 10am PT
, you will learn new insights to move ahead of your competitors, better connect with customers, and drive incremental revenue and profitability.
Register today!