UPGRADE TO MAGENTO 2 NOW
Guidance Will Grow Your Business with Magento 2.1
You already know the advancements made with the initial launch of Magento's next generation commerce platform. Magento 2.0. Now, with the unveiling of powerful new functionality in Magento 2.1, you can accelerate growth and take advantage of greater efficiencies.
Magento 2.1's all-new set of tools gives marketers and merchandisers more autonomy over site content and updates. a more user-friendly dashboard, superior search functionality and streamlined checkout. It's your platform, with next-level results. Learn More!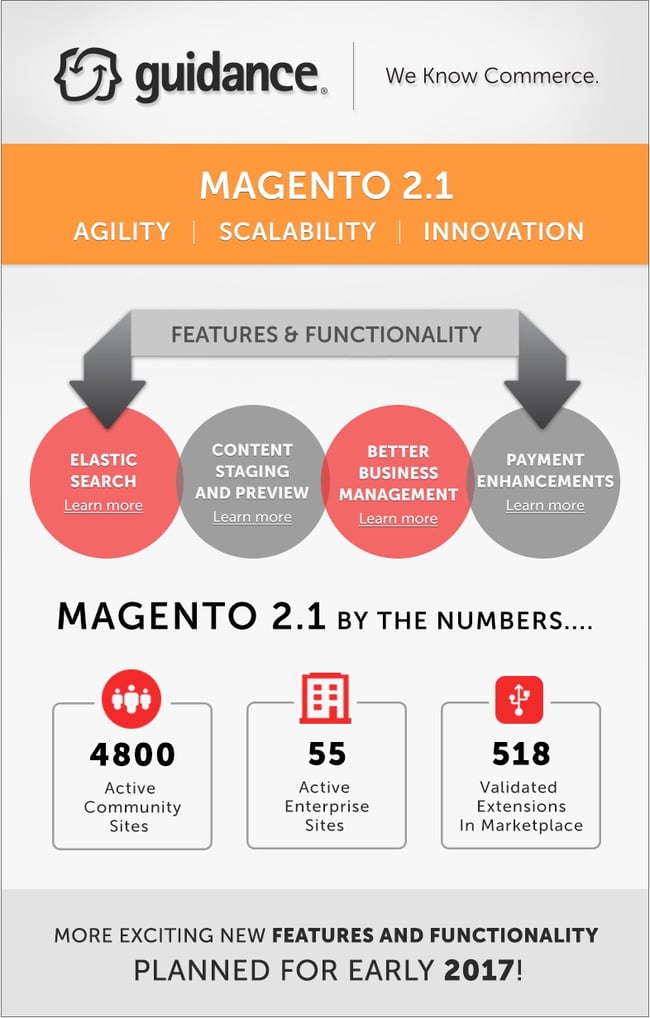 Magento 2 Only Gets Better
Guidance can help you get started. In fact, we recently launched merchant clients on Magento 2.1. Our team Magento 2 trained developers are experts who know the code inside out and are ready to help you transition to 2.1. There is much to consider in order to efficiently migrate to Magento 2.1. so we recommend getting started as soon as possible.Contact Guidance now to effectively plan your Magento 2.1 upgrade.

Plan Your Upgrade to Magento 2.1 Now
In addition to the new features described above. the Magento 2 platform continues to enable commerce with a host of benefits, including best-in-class checkout, improved search results and a redesigned, touch-friendly admin experience. Retailers can effectively scale their business with efficiency and reach customers around the world.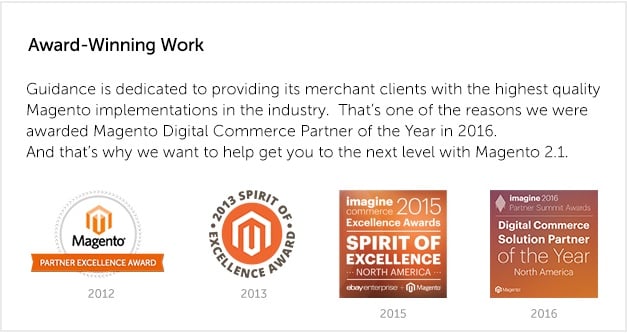 Visit our Magento partner page to learn more about our history with the platform. You can also explore our Work for examples of custom Magento sites that our team has built.