Guidance Executives to be in Attendance
MARINA DEL REY, Calif. (May 9, 2013) – Guidance, a web and mobile eCommerce design and development agency trusted by Internet Retailer Top 500 companies, invites retailers to attend the "Beating Amazon with Inspiration-Based Commerce? Yes, It's Possible!" panel at the Fashion Digital Los Angeles conference 2013.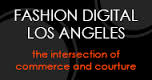 Guidance CIO Jon Provisor will discuss how to inspire eCommerce customers to buy products that they didn't yet know they needed, or only came to buy a single product. The panel will begin at 12:45pm, on Thursday, May 16, 2013.
Fashion Digital LA is the first and only conference dedicated exclusively to apparel and fashion eCommerce. The event provides a unique opportunity for online retailers to hear industry leaders share best practices and strategies for addressing the opportunities and challenges specific to fashion eCommerce. The one-day conference will take place at the Directors Guild of America in West Hollywood, Calif.
Guidance CEO Jason Meugniot and EVP Mike Hill will also be in attendance and available to discuss eCommerce solutions that increase sales conversion, and promote brand and product loyalty. MAGIC Market Week, Ray-Ban, Robert Graham, Sole Society, Tacori, TOMS Shoes and more have trusted Guidance's enterprise-level expertise to transform their online retail channels.
To request a meeting at the conference, please call 310 754 3808, email sales@guidance.com, or stop by the Guidance table.
For updates throughout the event, follow @guidance and #FDLA2013 on Twitter.
About Guidance
­A 2011 and 2012 Magento Partner Excellence Award Winner, Guidance designs, builds and hosts highly customized eCommerce solutions for today's leading retailers. Since 1993, national retailers and consumer product manufacturers alike have relied on Guidance's expertise to facilitate more than $3 billion in web, mobile and social eCommerce.
Brands such as Bank of America, The Coffee Bean & Tea Leaf, Honda, Hyundai, Intel, Mars, Nike, Oakley, Relax the Back, TOMS Shoes, Walt Disney and others, have engaged Guidance to build more than thousands of world-class, eCommerce websites and apps that captivate, engage and incite loyalty.
Learn more at http://www.guidance.com and connect with us at http://www.twitter.com/guidance, http://www.facebook.com/guidancesolutions, http://pinterest.com/GuidanceSolsInc, and http://www.linkedin.com/companies/guidance.
###
Press Release PDF: At_Fashion_Digital_LA_0.pdf