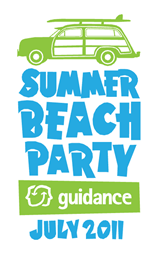 Summer is here and the weather has finally warmed up enough for Guidance to throw its Summer Beach Party! This Saturday, July 23rd, Guidance will be celebrating our favorite season of the year. We're expecting perfect, 73-degree, sunny-day weather, so we'll be having great fun in the sun at North Dockweiler Beach in Playa del Rey.
Our green committee, Guidance Green, will help us kick-off the event with a beach cleanup, from 10:30am to 11:30am. At 1:00pm, we will be taking over one of the nearby restaurants for lunch, drinks and plenty of fun. We'll head back to the beach once we've wrapped up with lunch for some additional fun before the party ends.
All Guidance employees will get a Beach Party Kit, so make sure to get yours before the party! The kit includes the commemorative Guidance Beach Party shirt with this year's official logo of the event (seen here).
See you at the beach!
Lisa