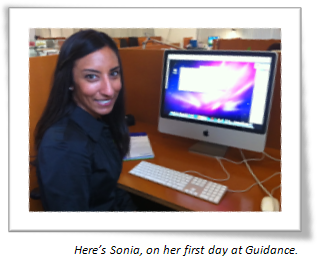 The search was on. For weeks we were looking for an outstanding Web Designer with the credentials and portfolio to prove it. And we found one. Her name – Sonia Chopra.
With an MFA in Design & Technology from the Parsons School of Design in New York, NY, Sonia is joining our Creative Services team to create industry-leading designs that helps our clients grow their businesses. She will also assist with Information Architecture, and will be responsible for developing usability standards that can be applied across all projects, evolving the user experience, and ensuring accurate QA of designs prior to launch.
In addition to her MFA, Sonia has completed Architecture & Studio Art degrees from Rice University in Houston, TX. Before joining Guidance, Sonia had her own company – Fresh Sparks – helping clients with their identity, print advertising, Web design, hosting and SEO needs. As a Creative Director for a children's magazine, Sonia won a Parents Choice Award. She has also worked for agencies and firms such as Plan B Solutions, Bigshot Media, Soundwalk Inc., Catalano Architects and CBT Architects.
Welcome to the team, Sonia!