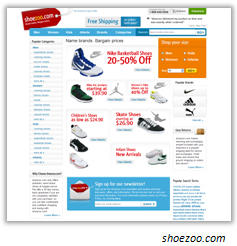 I've said it before – through the years, Guidance has found a sweet spot with shoe retailers. It all started back in 1997 with Foot Locker, and shortly after they started coming – Eastbay, Final Score, Ladies/Kids/World Foot Locker, Foot Action, Fila Store, TOMS Shoes, WSS … and now … shoezoo.com. And we're pretty excited (or shall I say "wild") about it!
shoezoo.com is an online shoe store specializing in name brand discount shoes. Earlier this year, they hired Guidance to replatform the site to Magento and to update its design. Guidance provided Information Architecture and Visual Design services, along with Technical Design and Development to build the site. Guidance also hosts the site on our Web servers.
Users of the site can shop by size, brand, category or gender to navigate its more than 38,000 SKUs. The site also features custom navigation that performs real-time inventory check. The site was optimized for search engines and its new design makes it much more easier to browse and shop for products.
The site is live now, check it out at http://www.shoezoo.com