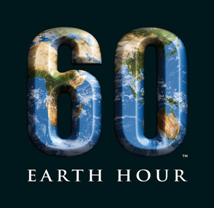 Tomorrow, Saturday, March 26th, the world will be turning its lights off at 8:30 PM in celebration of Earth Hour.
Earth Hour is a global event organized by World Wildlife Fund (WWF) and is held every year on the last Saturday of March, asking households and businesses to turn off their non-essential lights and other electrical appliances for one hour to raise awareness towards the need to take action on environmental efforts.
Last year, an estimated 90,000,000 Americans participated in Earth Hour as lights were turned off around the country, including iconic landmarks such as Mount Rushmore, the Las Vegas Strip, the Empire State Building and Niagara Falls.
Join Guidance and its environmental committee, Guidance Green, and celebrate Earth Hour by turning your lights off tomorrow at 8:30pm.
To learn more about Earth Hour, visit http://www.earthhour.org/