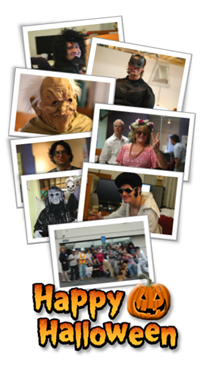 Are you ready for some Halloween fun? Then stop by Guidance tomorrow Friday, October 29th from noon to 1:30pm as we'll be having our Annual Halloween Potluck Party!
There will be games and prizes for the best costumes in each of the following categories: Funniest, Scariest and Most Creative. Costume winners will be announced at 1:30pm and presented with their prizes.
Rest well tonight and have a good breakfast tomorrow morning as we'll be playing the memory game - a Guidance tradition. Here's how it goes: random items will be placed on a tray. You'll have 60 seconds to look at the tray and try to remember all the things on it. Once the 60 seconds are over, the tray will be covered, and you'll have another 60 seconds to write down everything you saw on the tray. The person with the most items listed (that were actually on the tray -- no cheating!) wins the game!
We'll also have a raffle after the game. Almost everyone will get a chance to win a prize!
If you're stopping by, make sure to bring something for our potluck. Some of our guests have already signed up to bring some very spooky items from deviled eggs, to BOO!-ritos.
Come join the fun tomorrow at Guidance! We hope to see you.