SOL, a high-end lingerie retailer recently teamed up with Guidance and Magento to create a beautiful new site. Today's post tells the story of how we used synergy and SOL power to launch on Magento 2 before anyone else in the business.
SOL Lingerie BEFORE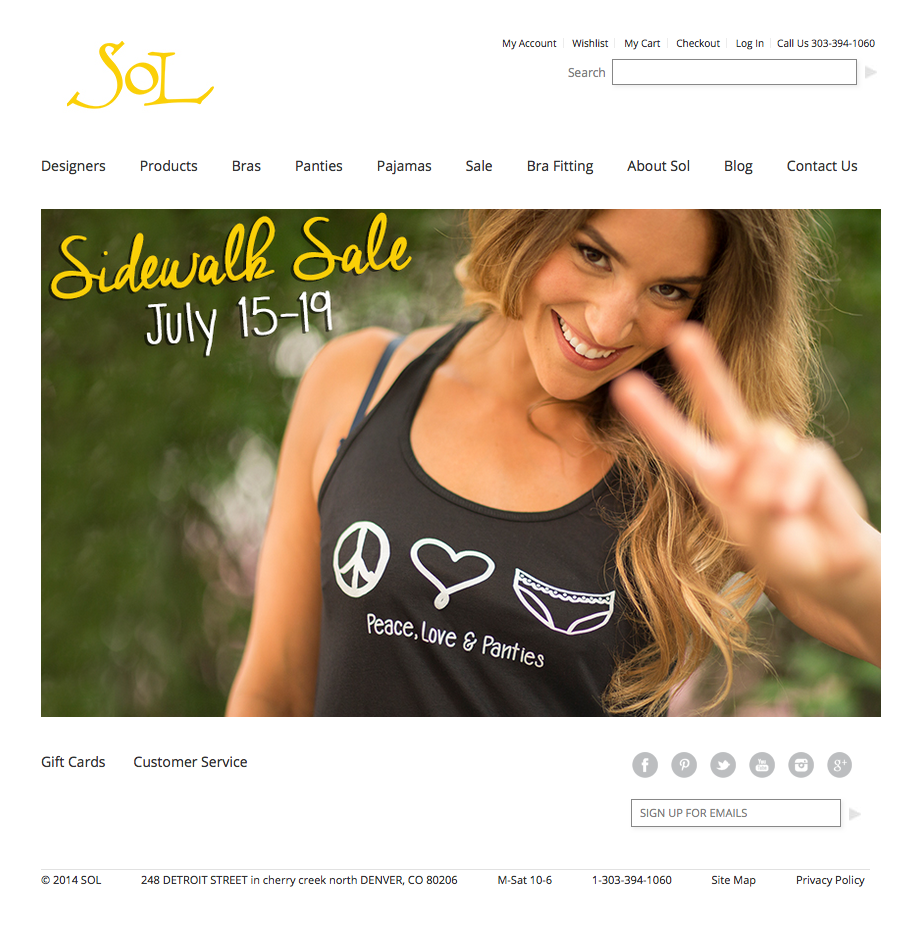 How It All Began
Early in 2015, members of the Guidance team met the founders of SOL, a Denver, Colorado-based merchant known for unparalleled bra-fitting expertise and exquisite European lingerie. Initially, they spoke about moving to Magento Enterprise from the community edition they'd outgrown.
The trick was finding a solution that would support business goals while seamlessly translating SOL's philosophy and fitting methods to digital. Peterson talked with Guidance SVP of eCommerce & Omni-channel Strategy Brian Beck, who connected the dots and saw a tremendous opportunity for the company.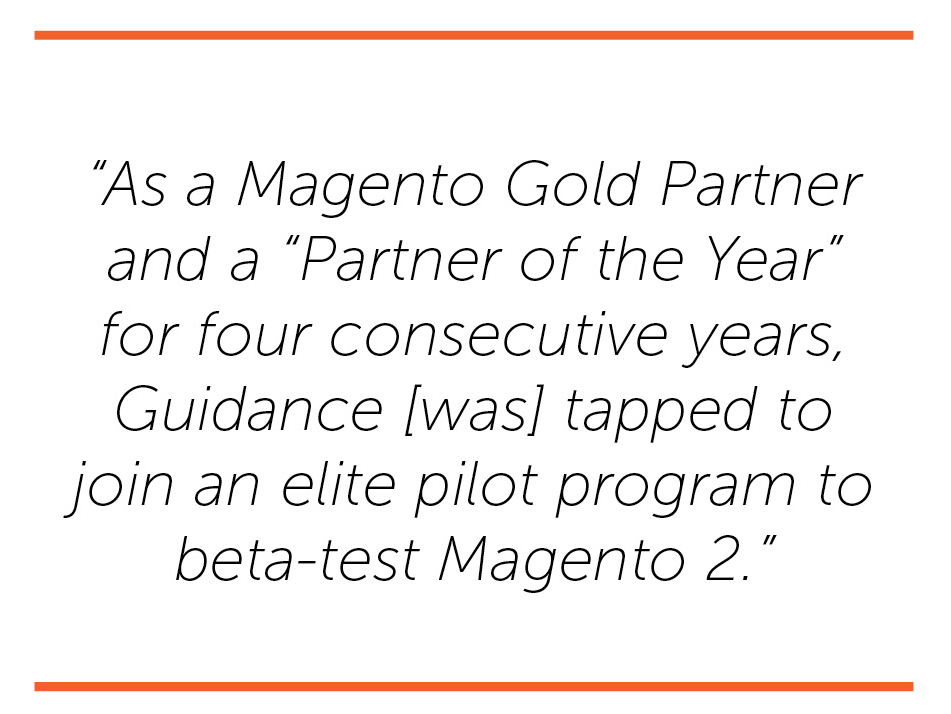 "They wanted to better communicate with the current customer, convey their brand elements and store experience via digital and expand market share beyond Denver."
As a Magento Gold Partner and a "Partner of the Year" for four consecutive years, Guidance had already been tapped to join an elite pilot program to beta-test Magento 2. Having a long history of successful Magento implementations, SOL agreed to take the journey with us, and thus a fantastic partnership was born.
Discovery, Design & Development
In June, the Guidance creative team traveled to Denver for an immersive store visit. They interviewed the founders and staff and even had personal fittings to understand the essence of the brand. Everything they learned contributed to the intuitive navigation, lush visual look and playful editorial tone of the new site.
SOL Lingerie AFTER

"We clicked with them immediately," remembers Annalisa Agoston, creative director at Guidance. "We created a mood board for their photo shoot, absorbed everything we could about their history and brainstormed innovative ways to share the personalized, in-store experience with customers all over the country. When we presented our first round of homepage comps, the SOL team applauded! It truly was an amazing moment," Agoston continued.
Meanwhile, our developers gained access to the code in the middle of July. They immediately set about exploring the new framework, learning the new architecture and working with the Magento team to identify bugs and help prepare the platform for its general release.
"We were able to bring it to market [within] a very competitive timeline - 3 months!," says Guidance Project Manager Christina Petropoulos. "We came into this program knowing we would be early adopters, and helping to build the foundation of Magento 2. Our developers loved that challenge. Many of them have been working in Magento for years, so it has been quite a privilege for them to be a part of this."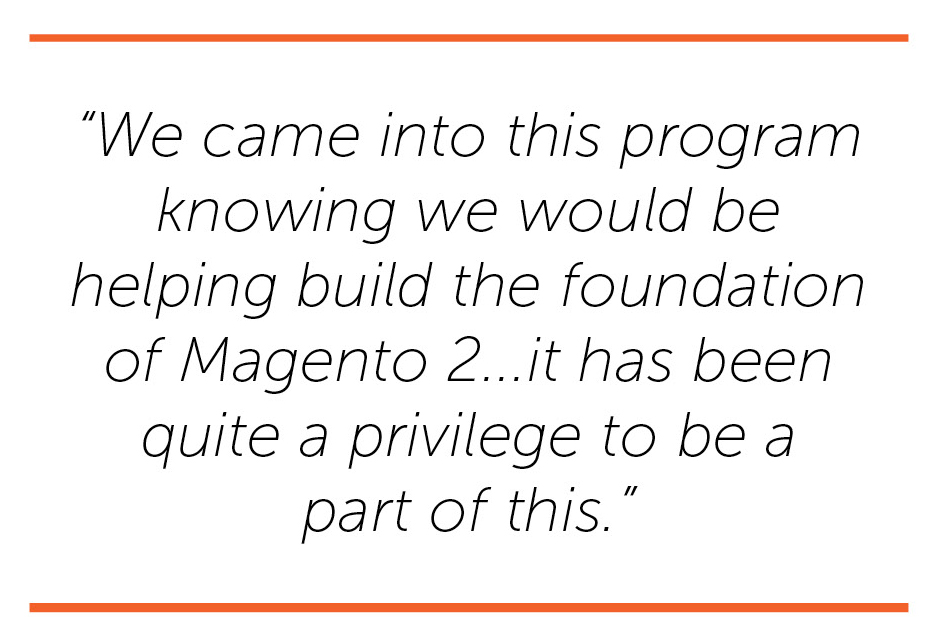 Platform Highlights
SOL is well positioned for growth in 2016 thanks to Magento 2's innovation, agility and scalability. The platform has best-in-class checkout features to help lift conversion rates, an improved search experience and a new admin UI that empowers business owners. SOL and other retailers will be able to upload and remove products quickly and easily. There are also staging and preview features coming in 2016 that will make the platform even more intuitive.
Guidance is frequently honored for Magneto implementations, as well as clever use of its CMS capabilities. Petropoulos says this experience influenced SOL's new site.
"From a merchant point of view, you have a traditional eCommerce experience with a product listing page, a product detail page and a checkout, but you also have a website that is very rich with other content that keeps customers engaged. They're coming back not just to shop but because there's content on the site that they find useful for research, information and social experience."
"We've been able to merge editorial, non-product elements [with] an eCommerce experience and create some fun content elements that [expand the brand and] their product offerings," states Petropolous.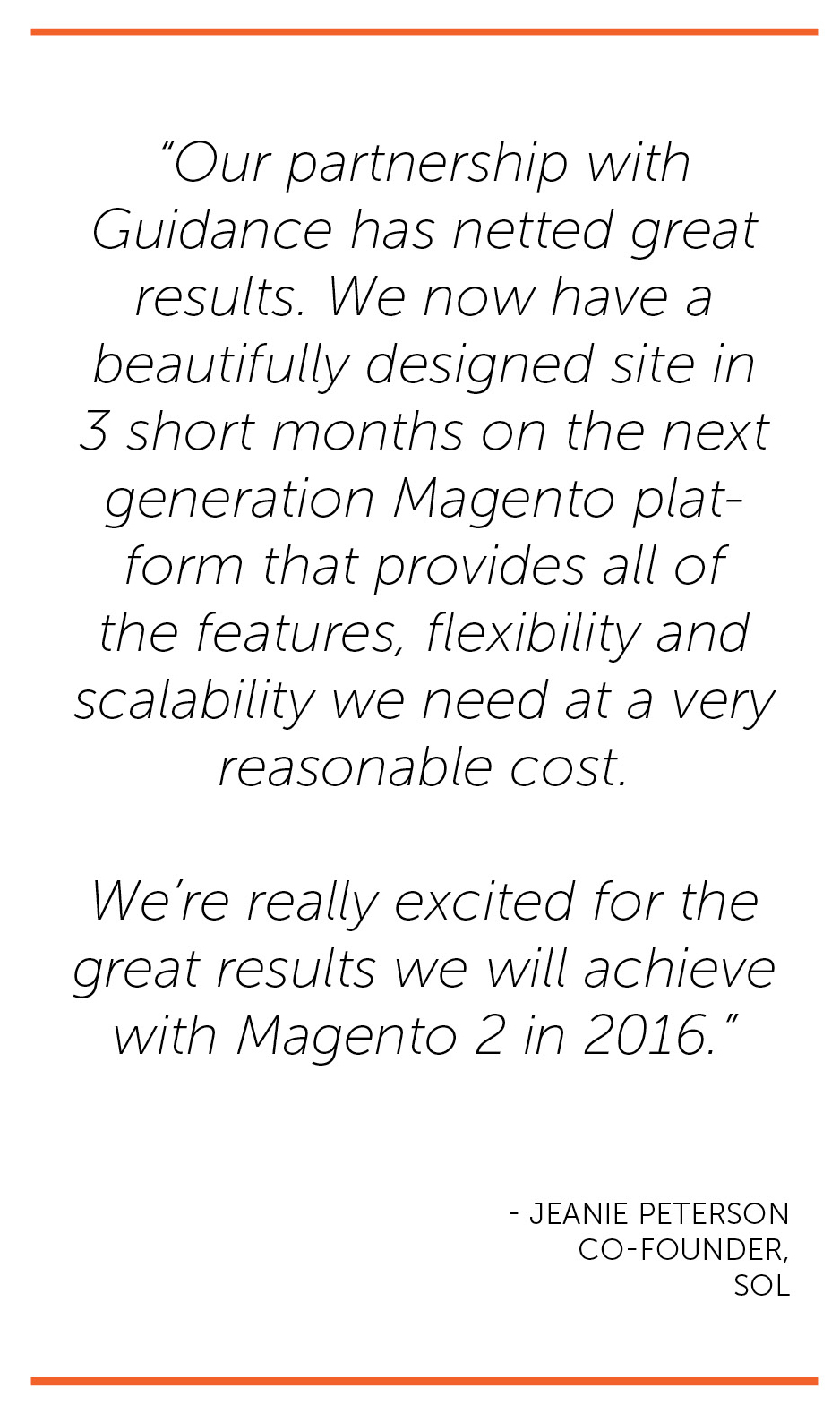 Personalized profile pages for each of the bra-fitting experts who work for the company
An anecdotal section devoted to each of the upscale brands SOL carries
A "SOL-utions" area that solves common fit and wardrobe issues with product recommendations and magazine-style content.
Ultimately, the leadership team at SOL was delighted with the results.
"Guidance played the lead role in designing and building out our site on Magento 2. We needed a partner who had an in depth understanding of Magento so we could seamlessly integrate new versions of the platform in 2016," said Jeanie Anderson, Co-Owner of SOL. "Our partnership with Guidance has netted great results. We now have a beautifully designed site in 3 short months on the next generation Magento platform that provides all of the features, flexibility and scalability we need at a very reasonable cost. We're really excited for the great results we will achieve with Magento 2 in 2016."
We here at Guidance are incredibly proud to have launched the premier site on Magento 2. Congratulations to this outstanding trifold team!