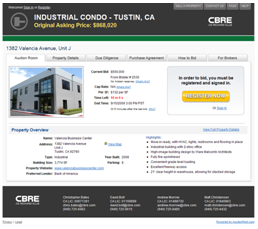 Recently, Guidance built and launched the brand new Web site for AuctionPoint, a first-of-its-kind online auction technology that allows commercial real estate brokers to sell and buy properties online.
The patent-pending, custom-built .NET site lets local brokers to customize and manage the entire auction of a featured property, from marketing to live bidding to sale, in an efficient, seamless manner.
With AuctionPoint, brokerage firms and brokers can create unique online auction sites – each site dedicated to a specific property auction – then market listings as they have traditionally. For brokers, AuctionPoint's set-up is simple, easy-to-use and intuitive. At the same time, its robust functionality can handle all the data and complexities of commercial real estate transactions, from detailed property information to extensive due diligence materials. During the registration period of an auction, brokers can review the list of registered bidders and qualify bidders to participate. On auction day, brokers know which bidders are in the virtual auction room, when they entered and the full bidding history.
While AuctionPoint's platform gives brokers back control of the auction process, it also levels the playing field for bidders, creating transparency that is missing from traditional sales approaches. For interested buyers, each customized site provides a 360-degree view of a property, from a pre-set minimum bid and detailed property information to photos and due diligence documentation. Throughout the auction period, each bidder is aware of the current high bid, and has ample opportunity to make an offer during a five-minute window after the last bid. This time prevents last-minute bidders from shutting out others who may submit a higher bid to win the auction.
Each broker can create and customize a Web site for an individual auction for a one-time set up fee of $395. AuctionPoint collects a one percent fee of the final price at the close of escrow, the same time as brokers receive their commissions.
Auction Point held its first live commercial real estate auction for the Valencia Business Center in Tustin, CA on September 25th. Within the first few minutes of the auction's start, dozens of site visitors started bidding on the property, quickly surpassing the half-million-dollar mark.
To learn more about AuctionPoint, visit their Web site at www.auctionpoint.com.