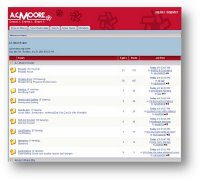 Everybody's got a hobby. Music, sports, photography, theater, and among many others, arts and crafts. In October 2007, Guidance helped brick-and-mortar retailer A.C. Moore conquer the online market by launching ACMoore.com, which offers a vast selection of arts, crafts and floral merchandise.
The site has been doing great. Shortly after its launch, A.C. Moore worked with Guidance to develop and gradually implement a social commerce strategy for their online store. They knew that when people are passionate about something – especially hobbies like arts & crafts – they love to share their experiences, questions and findings with other equally-enthusiastic users. And that's when social commerce works best.
The social commerce strategy included user ratings as well as user reviews for each of their more than 50,000 products. And then last Thursday morning, Guidance helped A.C. Moore launch the A.C. Moore Forum, a community of A.C. Moore customers and arts & crafts enthusiasts where they can exchange ideas, discuss scrapbooking projects, share knit and crochet tips, and ask general crafting questions. They even get the opportunity to talk to A.C. Moore's management -- an opportunity you rarely see these days.
To announce the launch of the A.C. Moore Forum, the Guidance eMarketing team assembled an email campaign for A.C. Moore, inviting their customers to become registered users and participate on the forum. The email was sent early Thursday morning.
So here comes the proof: by 11:00am – only a couple of hours after the forum was officially launched – the forum had over 2,000 registered users posting new topics, clicking on existing ones, but more importantly, visiting the website and shopping. We're running comparison analyses for site traffic and revenues, but in the meantime, nothing expresses customer satisfaction better than the words of the customers themselves:
I am glad I received the email about this forum. I can already see a lot of things that I am interested in! Thanks! (ACMoore.com customer from Syracuse, NY)
Thank you for this forum, it is a great idea. (ACMoore.com customer from Bangor, ME)
Thanks so much for the invite e-mail! I have a feeling I'm going to be spending a lot of time here! (ACMoore.com customer from KY)
This is a great idea....thank you... I look forward to sharing with fellow "crafties". (ACMoore.com customer from Saratoga Springs, NY)
My newest favorite forum! (ACMoore.com customer from Clayton, NJ)
I joined on Thursday and stayed up after midnight Friday reading posts. I'm already addicted! My third time on here today .... Thanks for a great forum. (ACMoore.com customer from SC)
Need I say more?