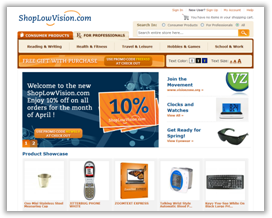 Guidance re-designed, developed and launched
ShopLowVision.com
for client Optelec, a Dutch manufacturing company whose products cater to the visually impaired and dyslexic.
ShopLowVision.com offers over 4,000 low vision solutions from electronic magnifiers, to daily living solutions, and assessment tools. The site is the first low vision eCommerce store with business-to-business, business-to-consumer, and business-to-professional interface all-in-one. In addition, it is the first eCommerce site aligned with the best practice model for low vision rehabilitation, as established by the American Optometric Association (AOA), the American Association of Ophthalmology (AAO), the American Occupational Therapy Association (AOTA), and the Association for Education and Rehabilitation of the Blind and Visually Impaired (AER).
The site was built on Magento's Community version and features different product catalogs for end consumers and eye professionals. To better serve those who are visually impaired, the site lets users change the background color of the site (offering better contrast), as well as the site's font size.
To learn more, check out their new site, ShopLowVision.com.