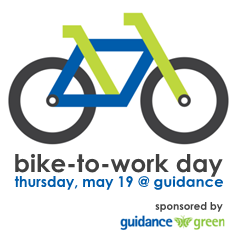 Hey everyone! Guidance is joining the Los Angeles Metro system to celebrate Bike-to-Work day on Thursday, May 19. This is the first year that Guidance celebrates Bike-to-Work day and the 17th for the Metro.
Bike-to-Work Day is an annual event held on various days in the Spring across the United States and Canada, to promote the bicycle as a healthy and eco-friendly alternative for commuting to work. It was originated by the League of American Bicyclists in 1956. In Los Angeles, the Metro system has planned several events throughout the region (more information at http://www.metro.net/around/bikes/bikes-metro/bike-to-work/
Participation is completely voluntary. However, we strongly suggest that participants wear a helmet, follow traffic laws, and practice good judgment and other safety procedures while riding to and from work.
Guidance employees who ride their bikes on Bike-to-Work day will automatically enter our raffle for a grand-prize! Rachele, one of our Guidance Green members, will be sending out biking tips and other great info over the next few days, which we will be sharing with you via our Twitter accounts, @guidancegreen and @guidance_green.
We hope you join us on Bike-to-Work Day!