David Zimmerman is our rock-star Business Development Representative.
All day long, he generates leads for Guidance in every sector – apparel, shoes, fine jewelry, education, specialty retail – you name the vertical and he's calling it.
"David is amazing at driving revenue and generating new leads," said Jon Provisor, CIO of Guidance. "To date, 10% of our sales revenues for this calendar year have resulted from his leads."
We interviewed David to give you better insight into to his day and how best to work with him to generate leads for your platform.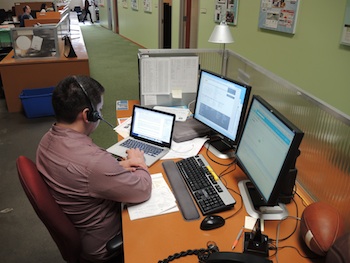 Every time I walk by your desk, you are on the phone. On average, how many calls per day do you think you make/take and what's been your most unusual sales call to date? I've made so many calls on behalf of Guidance, I can't keep track! I've mainly focused on building great relationships and being strategic in my approach. As far as unusual sales calls, I've received some pretty strange ones. You'd be surprised at the number of potential clients that have asked for free services.
What are some tips you would provide our partners in terms of working with you to cement leads? Ideally, they should call me directly with any opportunity they may have. Normally, I qualify all our leads and if appropriate, I then route all my findings to our senior sales reps for further sales development.
When our partners send us opportunities, ideally, what information would you like to receive? If they already have a relationship with a contact, an introduction call or email would be helpful to break the ice. I would appreciate any information on what platform their prospect is currently on, any integrations they require, why they would like to change, etc.
Ok, enough about business, let's get personal. Are those wedding bells I hear? Yes, I'll soon be getting married to my lovely fiancée Irene. I'm very excited for it because we've been together for 5 years and we've both been looking forward to this day.
Congratulations on the upcoming nuptials. And when's your bachelor party? I've already had one. I had a fun weekend together with my brother and friends and had a great weekend. It was a great bonding time. That's my story and I'm sticking to it!
Outside of planning your wedding, what do you do outside the office? I'm a big sports fan, and root for LA teams. Go LAKERS! I'm also a fan of movies, nice restaurants, hanging out with my friends, and networking about business opportunities.
If you'd like to wish David congratulations on his upcoming marriage or to make sure David has your latest sales materials, sales territory map and contact information, please call him at 310-754-3808 or email him at dzimmerman@guidance.com.