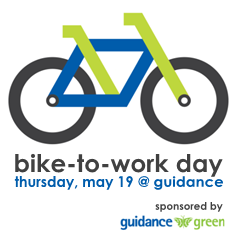 Before Your Ride:
Plan your route. The Guidance office is a great central location for riding. Bike paths lead to Marina Del Rey from the South Bay, the West Side and Culver City. Two good resources for mapping a bike ride are www.mapmyride.com and www.gmap-pedometer.com
Check your bike. Do you have air in your tires? Is everything working properly? If you will be riding in the dark, are your lights working?
Do you have everything you need? Be sure to bring a bike lock if you are parking your bike outside! If you need a change of clothes, it will be easier if you pack them the night before. If you are using the shower here, don't forget your towel. If you don't have a helmet, pick one up tonight. Be sure to ride with a cell phone, money for emergencies, ID and an emergency contact.
On Your Ride:
Wear a helmet. A helmet is to riding a bike as a seatbelt is to riding in a car.
Watch for cars. While there are lots of bike paths in the area, you will be riding on the streets with cars in part. Do not assume that they see you, even if you have the right of way.
Watch for obstacles and slick streets. Tomorrow's forecast is sunny, but the streets might still be wet, so ride carefully. Also keep an eye out for potholes and debris. If you are riding by parked cars, be extra careful for people opening their doors.
Wear comfortable clothing. The morning might be chilly, but you will warm up as you ride. Layers will help keep you as warm or cool as you need to be.
Enjoy your surroundings! You will notice a lot more on your bike ride than you do when driving into work. It's spring and Ballona Creek is blooming! The ocean looks great from the strand, and there are lots of people out and about.
Have a great ride!
Rachele M.
---
*Participation is completely voluntary.