For the past five weeks, the Guidance blog has focused largely on our experiences as early adopters of Magento 2. The final post in this series is specifically devoted to the migration tool, an intriguing feature that saved development time during our recent 90-day launch of SOL lingerie. For insights, we spoke with Robert Jung, a Senior Tech Lead who is now intimately familiar with both the platform and the tool.
What is the migration tool and how does it work?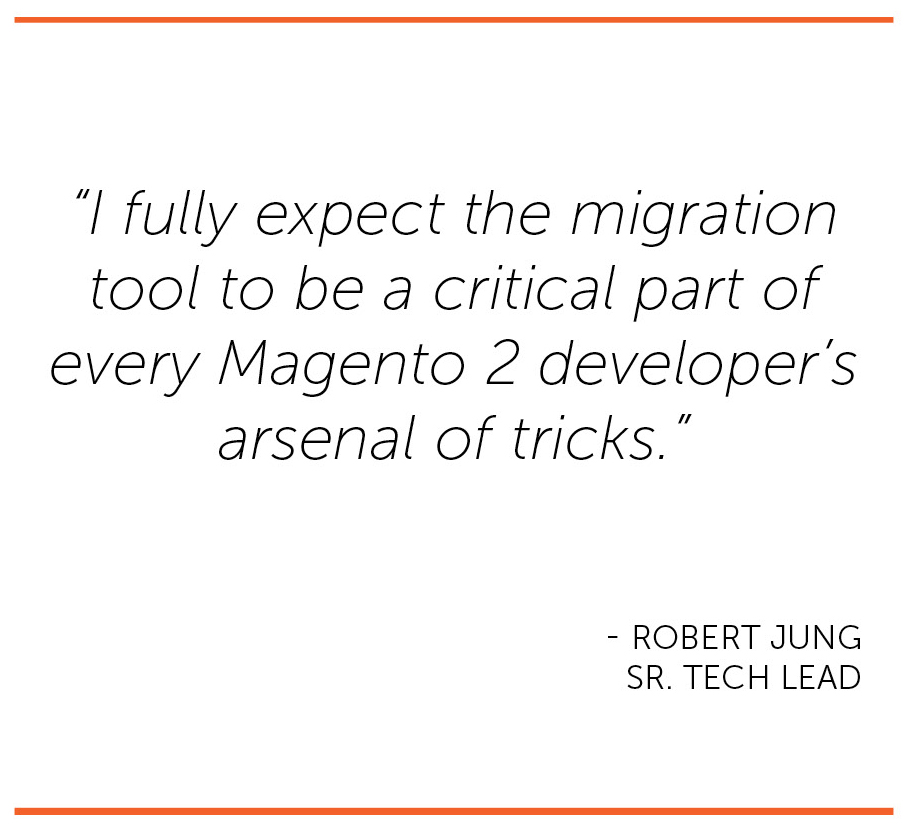 One of the tools that Magento provided for developers and partners is a Magento 2 migration tool. In layman's terms, the tool takes a Magento 1 store database and converts the data into the correct formats and fields and tables needed for Magento 2.
[In short, you can] take your Magento 1 store database, convert it to Magento 2, install it on the Magento 2 store installation and you're ready to go. It takes a little tweaking and work to get the store running, but it does save a lot of effort in the long run because you don't have to manually export all your products, orders and customers and then re-import them into the new system.
Tell us about using the migration tool on the SOL project.
Because the platform was still being developed, there was a learning curve.
Part of it was because we were working with beta code and part of it was because the tool was not as mature at the time. It took a few tries to get it to run properly, [which is] understandable in a beta [situation]. Once we got it working, it was all very smooth and uneventful.
Post-beta, do you think the migration tool will be easier for subsequent teams to use?
I would expect it to be, yes. I fully expect that the tool will evolve with the platform. I expect it to be a critical part of every Magento 2 developer's arsenal of tricks.
What do you like most about the migration tool?
It just works. I can use it without worrying about whether it will stop working. It's nice and reliable, and that's the highest praise I can give for any tool.
What are your impressions of Magento 2 from a developer's point of view?
From a software engineering perspective (and I say this because I was trained in a classical software engineering paradigm), I think there is great potential in Magento 2. The new software architecture is clearly designed to be very scalable and very robust. It's very easy to develop and test and catch problems early…. I fully expect the platform to reach new heights in the next couple of years. I would say that I think Magento 2 is a great start for the future of the platform, and I expect to see amazing things come out of it.
*****
Thank you, Robert! We hope our readers have enjoyed this five-part series. For more on platform expertise, best practices and key findings, follow us on Twitter and keep an eye on the Guidance blog.